Finance Resources
Agreement Set-Up
Budgets and Budget Modifications
Cost Allocation
Invoicing
General References
---
Agreement Set-up
What is the process for setting up an agreement with OEWD (Non CDBG funds)?
After the RFP or RFQ review period has closed, qualified providers are contacted to negotiate awards and scopes.The scope of work includes description of services, deliverables, timeline, and reporting requirements (i.e. invoicing) which is provided by and negotiated with the assigned program officer. Simultaneously, the Contracts Team will provide a standard budget template and coordinate with the organization to finalize the budget for the program. All allowable, reasonable, and necessary costs required to execute the scope of work in the grant agreement are identified through negotiation of the budget. Once this process is complete, OEWD's Contracts Team will prepare the appropriate agreement and send it to the provider for review and signature. Normally, OEWD will request the documents be returned with all appropriate signatures within a week. Once the provider returns the agreement, it is then sent to OEWD's Department Head and City Attorney for another set of signatures. After the agreement is fully countersigned, the grantee/contractor is sent one original agreement for their records and is advised to begin invoicing per the agreement terms.
What are the standard insurance requirements in City agreements? Can the standard insurance requirements in City agreements be waived? What are the steps to do so?
Generally the City requires that contractors provide proof of the following amounts and coverages:
Workers' Compensation, in statutory amounts, with Employers' Liability Limits not less than $1,000,000 each accident, injury, or illness; and
Commercial General Liability Insurance with limits not less than $1,000,000 each occurrence Combined Single Limit for Bodily Injury and Property Damage, including Owned, Non-Owned and Hired auto coverage, as applicable.
In addition, Commercial General Liability and Commercial Automobile Liability Insurance policies must be endorsed to provide:
Name as Additional Insured the City and County of San Francisco, its Officers, Agents, and Employees.
The Workers Compensation policy shall be endorsed with a waiver of subrogation in favor of the City for all work performed by the Contractor, its employees, agents and subcontractors. Depending on the type of services being offered, organizations may also be required to provide proof of Errors and Omissions or Professional Liability insurance. Additionally, yes, insurance requirements can be waived; however, a legitimate reason that does not conflict with the scope of services must be explained in writing by the provider and communicated to our department. The city's risk management office will then make a decision upon review. The waiver request letter should be dated, signed and explain why the waiver is necessary. Please see the sample letter below for additional reference.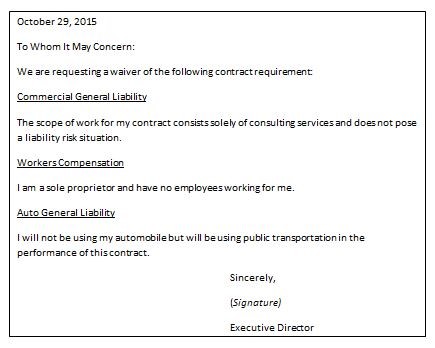 If I have subcontractors/subgrantees as part of my agreement, how quickly do I need to pay them for their services?
The grantee should pay the subcontractor on the payment schedule established in the subcontracting agreement and before the grantee receives the City reimbursement for the services delivered.  It is expected that when a grantee makes agreements with subcontractors that they adhere to the same policies OEWD has established with the grantee. Because City grants are cost reimbursement agreements, it is also expected that payment has already been issued prior to the lead organization requesting reimbursement from OEWD. The received date will be stamped when all supporting documentation has been received with the invoice and payment will be issued by OEWD no later than 30 days after the received date. 
What are the procedures for setting up an amendment to an existing agreement?
For any changes made to a current agreement which affects program scope, agreement terms, and/or budget requires a contract/grant amendment. If the scope of work and goals are being changed, then the new terms will be negotiated with the assigned program officer and simultaneously, the contracts team will work with the grantees fiscal lead to negotiate a budget for the new program scope if necessary. Once the review process is complete, the amendments will be routed for signature and the budgets will be made available in TGS for invoicing per the agreement terms. 
---
Budget and Budget Modifications
We received the budget template from our grant coordinator. How should we complete it?
Using the budget template provided by your grant coordinator, enter in lines for budget items by fund source and activity. Referring to the scope provided by your OEWD program officer and the funding amounts provided, enter budget amounts into appropriate budget line items according to the funding allocation. The budget template will show grayed out cells which designate unallowable expenses for that fund source and activity and therefore prohibits data entry. On the second tab of the budget sheet labeled "at a glance" you will find calculations that will adjust as the details in the budget are updated. This tab may help spot check for cost allocation and budgeted totals against allocated funds. Be sure to use your agency's current cost allocation plan when budgeting expenses across activity categories.  
May I add line items to the budget that do not appear in the template?
No. OEWD's budget and invoicing system reflects set descriptions for line items. Grantees can contact their grant coordinator if they have questions about their budget and how to classify items not listed on the template. 
A funding stream is any source of money that is required to be tracked separately.  If the source of money is federal then the funding stream can be linked to a specific Catalog of Federal Domestic Assistance (CFDA) number (i.e. WIA Adult, WIA Dislocated Worker, WIA Youth, H1B, etc.) which can be located in your grant agreement. 
How can I track spending and budget?
Please refer to TGS resource page for more information on how to create reports and pull queries. 
What are the ways to maximize spending to spend down allocated amounts?
All charges must be supported by a cost allocation rationale. If your agency finds that they are under spending in a particular fund source or a particular service category then you may want to look at your cost allocation method and reevaluate to determine if it is the most appropriate method for your program. Open communication with your agency's program staff and OEWD's program officers is also essential. Some examples: If you find that you are not maximizing your dislocated worker funds, and your cost allocation method is participant based, you should speak with your internal program staff and ensure you are receiving correct headcounts based on eligibility. You should also ensure that program staff know how to identify dislocated worker clients and are asking the correct questions at the time they are reviewing eligibility to most appropriately place clients. If all of that is working correctly, your OEWD program officer may be able to assist your organization with ideas to market the program to populations that are not currently serviced through the resources. Generally speaking, the budget and the scope of services for an agency's grant should match closely. For example, if the funding allocated to the grant by OEWD was 50% WIA Adult and 50% WIA Dislocated Worker funding then the goals generally follow the same percentage. If your agency's spending is not consistent to the budget then it is possible that the goals for your program are not being met as agreed to in the scope of services. For any concerns regarding spending and budget, please speak to your internal program staff to discuss options to reevaluate the cost allocation basis. If further assistance is needed, please contact your grant coordinator.
What triggers a budget modification? When can I request one and how should it be submitted?
A budget modification is necessary when there are anticipated changes in budget spending or projections. Budget modifications are handled differently depending on the system the grant is tracked in (TGS-SFO vs TGS-EWD) and its associated funding streams (WIA and General Fund vs CDBG). Please refer to the

TGS chart to help determine which TGS instance is appropriate for your agreement. 
A budget modification should be requested if there is a need to shift budgeted costs or if there is a shift of more than 10% between roll up items. Although you can shift 10% between major line items, you cannot shift between service categories (i.e. from Participant to Salaries).
In order to initiate a budget modification, CBO's must request a budget modification and submit a revised budget template using the TGS budget lines to the Grant Coordinator with a reasonable description of the modification being requested. Once it is reviewed, the grant coordinator will inform the CBO of the status. If approved, the budget will be sent to the Contracts and Performance Director to be made available in TGS as a new contract for invoicing. In addition, the Finance office will be sent a copy of the modified budget and will make the appropriate adjustments to reflect the budget modification to the agreement/amendment on file.
TGS-EWD (all WIA agreements) allows for as many reasonable modifications as needed, but modifications requested near the close of the fiscal period may not be honored. In addition, requests to modify the budget by shifting funds from one stream (i.e. WIA Adult) to a different stream (i.e. WIA Dislocated Worker) are generally denied as OEWD has limited ability to make funding shifts at the Division's master budget level. 
What are indirect costs? Can I include indirect cost rates in my budget? Are there any restrictions? Is there a rate across the board for all programs?
Indirect costs are those that have been incurred for common or joint objectives and cannot be readily identified with a final cost objective. Indirect cost rates can be included in your budget. They can include such things as: administrative staff, clerical staff not dedicated to specific programs, office space used by those staff, equipment used by everyone, marketing expenses, accounting audits, etc. A uniform indirect rate for all programs is not established or enforced by OEWD. New guidance per the feds regarding the De Minimus Rate was made effective FY15-16. Grantees that have never had a federally negotiated indirect rate may use a flat rate of 10% for indirect costs using your Modified Total Direct Costs on Federal fund sources (WIA, H1B, etc). Please see 2 CFR 200.414 – Indirect (F&A) Costs for more information and how to calculate MTDC. If you prefer, you may directly allocate all costs as you have done in the past to recoup more than the 10% flat rate allowed.
For those that have a current Federally Approved Indirect Cost Letter, we will continue to honor up to the approved indirect rate as stated in the letter. Please budget as needed and provide a copy of your letter with all appropriate supporting calculations (so we can see the base as defined in your agreement) when you submit your draft budget. 
For those who have had a negotiated indirect rate in the past but currently do not have an active one in place, you may not budget or charge the de minimus rate. Instead, you may budget all necessary and allowable charges as a direct cost (as you have done previously). 
For General Fund projects, a federally recognized rate is not required and we do accept 10-12% for an indirect rate if needed. These rates can be negotiated during the budget setup process. An explanation of what is included in the indirect expense calculation may be required to be submitted for approval. At a minimum, grantees should retain documentation and an explanation of the rate for review during their annual fiscal monitoring site visit.
For CDBG, the maximum indirect cost rate allowed is 15% of the total grant amount for FY 2015-2016. Grantees are notified of the current year's acceptable rate during the mandatory orientations held each year at the end of May. An explanation of what is included in the indirect expense calculation is required for it to be approved. If choosing to use this line item, there should be no administrative expense elsewhere in the budget (including administrative salary for Executive Director or other management) and all other budget line items should represent only program-related costs. 
Our budget does not have a budget line for an item we will be including in our monthly invoices. Can we bill against another budget line?
No, a budget modification request will need to be submitted to your grant coordinator to allow for invoicing against the appropriate budget line for the expense.
---
Cost Allocation
What is cost allocation? What are the cost allocation methods most commonly used?
Cost allocation is the process by which a nonprofit allocates indirect and shared costs across programs and administration. Cost allocation is important because it helps a nonprofit to capture the true cost of their activities and fairly allocate overhead costs. The City's cost allocation guidelines for nonprofit contractors largely follow those described by Generally Accepted Accounting Principles (GAAP) and in 2 CFR, Part 230. 
Cost allocation methods vary, just as cost types do. The objective of the method used is to ensure reasonableness and equity. Your organization is likely to use several different bases for allocating different types of costs. Once your organization establishes a method of allocation, that method should be used consistently throughout the program or fiscal year and be described in your cost allocation plan. A reasonable methodology for allocating costs may be Personnel Allocation (FTE's); to use this process, there must be a documented time distribution system. With a time distribution system, costs flow to the area of work emphasis, which normally correlates to funding.  This system works well with budgets because it creates a cost per position relation for expenditures. For example, supplies are stored centrally and used by all staff in performing their jobs. It is reasonable to conclude that the supplies are used in the same manner and for the same purpose as the time spent by staff while using the supplies. It is acceptable to use FTE's distribution as the basis for allocating the cost of supplies to various cost categories.
Other commonly used methods of cost allocation include square footage, number of participants served, and time studies. To find out more information regarding methods of cost allocation, please contact your grant coordinator.
How do I allocate shared staff (staff that is not directly working on the program) and general expenses appropriately?
Shared staff and general expenses that are not directly program related can be included as part of your indirect costs. Please see the indirect cost question and cost allocation question for more information on these topics.
How do I determine WIA service categories for allocation purposes?
Effective July 1, 2015, WIOA has implemented a new classification of costs. Intensive services have expanded to include registered services, thereby doing away with Core B Registered Services as a separate classification.
Classification of WIOA Costs

Core A Services – Self Service Informational (no registration required)

WIA Intensive Services (registration required)

WIA Training Services (registration required)

Determination of eligibility to receive assistance under Title 1B

Staff assisted job search and placement assistance, including career counseling

Occupational skills training

Outreach, intake (which may include WPRS referrals) and orientation to the One-Stop center

Follow-up services, including counseling regarding the workplace. (the individual would already be registered to be receiving follow-up services)

Workplace training and cooperative education programs

Performance information on eligible training providers

Staff assisted workshops and job clubs

Skill upgrading and retraining

Performance information on the local One-Stop delivery system

Comprehensive & specialized assessment, such as diagnostic testing and interviewing

Entrepreneurial training

Information on supportive services and referral to supportive services

Group Counseling

Job readiness training

Information regarding filing for unemployment compensation

Case Management

Adult education and literacy activities in combination with training

Assistance in establishing eligibility for welfare-to-work activities and for other training and education programs

Short-term pre-vocational services

Customized training

Resource room usage

Follow-up services, including counseling for registrants (those previously receiving intensive training services) after entering employment

 

Internet browsing (job information and training searches)

 
 

Internet accounts (Career Kit, Personnel Kit)

 
 

Initial Development of Employment Plan

 
 

Talent referrals (informational. e.g. talent scouts, labor exchange referrals of resumes without further screening)

 
 

Workshops and job clubs

 

 
---
Invoicing
When new staff is introduced or changed in the program, how do we indicate the change on the invoice?
New staff can be added during the program year by adding staff names and position information and pay rate into the salaries section in 7c2. Please see the TGS Resource Page for more information regarding TGS.
What is the difference between accrued charges and actuals on WIA invoices?
Only WIA fund sources allow accrued costs to be charged.  Items listed in the "amount requested" column are all expenses that were incurred and paid for within the invoice month.  Expenses must be allowable and directly related to the program. Accrued costs are those expenses incurred in the invoiced month but paid for in a subsequent month.  Regardless of how the charge is listed, back up documentation confirming the charge was incurred within the grant term is required to be submitted with the invoice.  
A common accrued expense example is the recording of wages that have been earned but not yet paid or processed through the routine payroll. These can be accounted for in a monthly invoice as accrued salaries and fringe; however, once these expenses are processed and paid, they need to be revised to reconcile any differences on the following invoice. Accruals are not allowed on final invoices as reimbursement for anything outside the grant term is not possible. A reconciliation process should be in place at your agency to ensure that all your costs are accounted for.  Your grant coordinator will notify you of deadlines and additional details concerning the close out process in the last quarter of the fiscal year.
All expenses must be paid by the Grantee prior to inclusion and submission of the invoice.
If performance based fees are included in the scope of work and budget, how can I request payment?
Please refer to the scope of work, which details the policy and procedures regarding performance based fees. If more questions arise please contact your grant coordinator. 
When should I expect invoice reimbursement? When should I contact OEWD if I think my payment is missing?
Grantees can expect payment approximately 30 days after the completed invoice packet with all supporting documentation is received.  However, any questionable or unsupported costs may delay approval and processing of payment. Your assigned grant coordinator will communicate all issues, if any, to resolve any concerns and questions. Please contact your grant coordinator if it has been more than 30 days from submission and payment has not yet posted to your account.
What should I do if we have exhausted the funding in a specific line item in the budget?
A budget modification should be requested if a budget line has been exhausted but additional expenses are expected to be incurred. It is recommended that after each quarter grantee fiscal leads analyze spending trends and work with program officers to determine budgeted areas that may not be spent down. This will allow for consolidation of budget lines to increase the exhausted line through a budget modification.
Yes, food is an allowable cost depending on the circumstance, fund source, and if required by the program.  Under WIA, food can only be purchased when it is used at an event that participants are required to attend. General funds may additionally be used for meetings where participants may not be present, but where the meeting activities are directly related to the grant scope of work. For example, if your program requires you to purchase food staples as supplies for the actual training (fruits and vegetables, etc.) to learn knife skills, then it is always allowable under any funding source because it is reasonable and necessary. The food costs must be approved in the negotiated budget or modified to include food/ meal expenses. Please refer to Appendix C of your grant agreement for City requirements regarding food and our website (www.oewd.org), specifically our WIA directive on Allowable costs.  
Is it ok to purchase equipment? Can equipment be considered an incentive? What if I need to repurchase equipment that has been damaged, lost or stolen?
Yes, equipment purchases are allowable. CBO's must refer to OEWD's Equipment Inventory Guidelines. Equipment can be considered an incentive depending on the purpose it serves, generally in Youth programs incentives may be given for achieving both short term and long term performance outcomes. Clients may receive a maximum of $300, cumulative, for incentives, of which each incentive may not exceed $75 in value. For more information on incentives please refer to OEWD directive on incentive on our website.
All service providers shall promptly report to the Office of Economic and Workforce Development (OEWD) all allegations of potential fraud, abuse, and other criminal activity. Any loss, damage, or theft of equipment shall be investigated and fully documented in order to be replaced. OEWD and each service provider shall establish appropriate internal program management procedures to prevent any criminal activity. The incident reporting process shall ensure that all instances of fraud, abuse, or other criminal activity associated with WIA-funded activities are concurrently reported to the State of California Employment Development Department (EDD) through OEWD.
Service providers must maintain accurate inventory records of all equipment purchased. The equipment records shall include the following information:
A description of the equipment
Manufacturer's serial number, model number, or other identification number
Source of the equipment, including the contract number
Acquisition date
Per unit cost at acquisition
Records showing maintenance procedures to keep the equipment in good operating order
Location and condition of the equipment and the date the information was reported
Disposition date, sale price, loss, theft, etc.
CDBG Program will not reimburse equipment purchases of $1000 or more or any subcontract expenditures unless we have an approved Form H (Request for Approval of Subcontract and Equipment Purchase) by the grant coordinator and the required documentation (i.e. Explanation of use of equipment and amount to be paid by CDBG, etc). For equipment purchases and subcontracts of $29,000 or more, you are required to publicize your needs in the City's Purchasing Department. This is done by following the instruction on Form I (Bids and Contracts Database Information Form). Contractual services and equipment purchases under $1000 do not require prior approval from MOH/OEWD and do not require submission of Form H. For more information, please refer to Form H.
What is a supportive service? What is allowable and what kind of documentation is needed?
Supportive Services are those services such as transportation, child care, dependent care, etc. that are needed to enable an individual to participate in the program, complete training, and obtain or retain permanent employment. Supportive Services can vary by program and grant scope. Funding sources can be more restrictive than others in the way they are provided, i.e., WIA, General Fund, etc. Supportive Services payments will be requested individually for specific needs and payments may be made on a case-by-case basis only when determined necessary and reasonable. 
Supportive services must be documented using the OEWD Supportive Services Payments Determination/Certification Record form, maintained with the IEP/ISS in each participant's file. Supportive services may be provided either in-kind or through cash assistance. In order to obtain payment for any supportive service, the customer or the service-providing vendor must provide appropriate documentation. Such documentation will include at a minimum the following:
Justification for the need of supportive service (which may include training attendance records, documentation of miles traveled, receipts, etc.);
A description of the supportive service provided and why the supportive service could not be obtained through other programs and;
An invoice or receipt for payment received (itemized and dated) for the supportive service and confirmatin that the service was received by the client which includes the participant name, signature and date. 
I'd like to purchase muni tokens in bulk to be distributed to participants when needed. Is this allowable?
For WIA funds, grantees may purchase muni tokens as supportive services in bulk; however, only when the tokens have been distributed can the expense be included in an invoice and submitted to OEWD for reimbursement. In addition, the participant's need must first be established and the supportive service must tie back directly to individual participants in the program. The required supporting documentation of participant signatures and dates of confirming receipt of the supportive service must be submitted at the time that the expense is invoiced. With general fund, the same rules apply as with WIA in most cases. Supportive services must be tied to a program participant in order for them to be reasonable and necessary for the operation of the program. If the provider needs to purchase a small stock in advance and follow up with documentation that they have been utilized within the same billing month, call your grant coordinator for instructions on how to document this instance.
Are advance payments allowable?
Advance payments are rarely allowed and if approved, it is only for some select nonfederal sources. For more information, please contact your grant coordinator.
Can personal expenses be billed to the program?
Yes, provided your agency has a policy to reimburse for personal expenses. The charges must be appropriate and necessary to the program. In certain instances for example, if a personal cell phone is used for business related purposes, then a percentage of the expenses may be included in the invoice for reimbursement. If it is an item billed under WIA, please refer to OEWD Directive on Allowable Cost.
Can we retroactively charge any amount incurred but not invoiced in the past months?
In the event that you find you have missed a cost on a monthly invoice, you have the option to reconcile these charges in a subsequent invoice for reimbursement given that the expense is reasonable and allowable. These should ideally be invoiced within the same quarter, but never outside the grant term. However, the charge/s must fall within the active fiscal year as we will not be able to reimburse anything from a closed fiscal year. Please keep in mind that the city of San Francisco's fiscal year begins July and ends the following June.
Can charges be billed when incurred outside of the contract term?
No, charges must be incurred within the contract terms to be eligible for reimbursement.
Can the item labeled rent in the budget be used to offset my agency's mortgage payment?
The building for which you want to charge rent must house activities or personnel required by the scope in the grant agreement. However, OEWD approval must first be obtained prior to including costs in an expense report. The agency must provide an assessment which includes calculations based of the the fair market value of the space in the area ($/sq.ft.). For example, gather a sample of 3 spaces located in the immediate vicinity, average out the $/sq.ft. and then apply that to the agency's space. The analysis of fair market value will be reviewed and if approved, will be included in the contract file and attached to the invoice as additional documentation required to support the amount requested for mortgage payments billed against the rent budget line.
Can we pay unused vacation with any OEWD funds?
No, grant funds can only be used to reimburse documented payroll expenses. An agency can request reimbursement for vacation utilized by and paid to an employee. However, an agency cannot request reimbursement for accrued vacation time that is not realized as a payroll expense.
Are vacation accruals allowable?
It is allowable as long as the expense is within the grant period and appropriate for the percentage of the FTE being charged to the program. Below are models of acceptable methods of billing for vacation accruals.
A: Vacation expenses become a billable cost to contracts when an employee actually takes vacation and is paid for previously accrued vacation hours. The advantages of this method are that it is easy for the contractor to administer, easy for the city to monitor, and it provides for even cash flow throughout the contract period. This is the method most frequently required for billing government grants.
B: Vacation expenses become a billable cost to contracts when employees earn the vacation. However, when actual vacation hours are paid, those cost cannot be billed. Most organizations do not keep a separate general ledger account that reports vacation time paid (separate from other types of wages), so it is difficult to pull these unbillable costs out of the agency's financial reports. An advantage is that the exact amount of vacation earned is billed in the contract period. Disadvantages are that the cash flow to the contractor can be uneven during vacation months because the cost was previously billed and reimbursed in small increments. It also requires additional accounting by the contractor and may be difficult for the contractor to track if not all funders allow this method. For those intending to utilize this method, please contact your grant coordinator for additional backup documentation may be required.
Severance pay is allowable if required: 1) by law, 2) in an employer-employee agreement, 3) in established organizational policy, or 4) is agreed through circumstances of the particular employment (Number 4 applies to those entities covered by 2 CFR 220 and 2 CFR 230 only). The expense must be within the grant period and billed using an appropriate percentage of the FTE being charged to the program.
---
General References and Resources
How do I become a City vendor?
Where can I find more information on Ordinances related to the contracts and grants?
How do you submit a single audit to the Federal Audit Clearinghouse?
The following must be sent to the Federal Audit Clearinghouse:
A - According to the OMB Circular A–133, (http://www.whitehouse.gov/sites/default/files/omb/assets/a133/a133_revised_2007.pdf), Subpart C -- Auditees §___.320 Report Submission. The following must be submitted:
1. A completed Form SF-SAC as described in Section _.320 of OMB Circular A-133; One complete copy of the Single Audit reporting package as described in Section_.320 of OMB Circular 133 including:
2. Financial Statement(s)
§  Schedule of expenditures of Federal Awards
§  Summary Schedule of Prior Audit Findings (see below)
§  Opinion on Financial Statements
§  Report on Internal Control- GAS
§  Report on Compliance- GAS
§  Report on Internal Control- A-133
§  Report on Compliance- A-133
§  Schedule of Findings and Questioned Costs
§  Corrective Action Plan (if findings)
§  Opinion or Disclaimer of Opinion on Schedule of Federal Awards
3. Deadline to submit is within 9 months of the end of the agency's fiscal year.
How can I find the CFDA numbers associated with the funding my agency received?
How can I find OEWD Directives?
How can I find more information on determining our indirect cost rate?
Where can I find the OMB Circular A–122?
OMB Circular A-122 has been relocated to 2 CFR, Part 230. Please visit the following link for additional updates to OMB Circular references: https://www.whitehouse.gov/omb/circulars_default.
---