Production, Distribution, and Repair (PDR)
PDR Sector Assistance
City Liaison: Specialized assistance in navigating city government including permitting and zoning questions and assistance, single point of contact at the city to coordinate services.
Workforce Services: Assistance with employee recruitment, subsidized job training for new hires and skills upgrading, employee bonding and retention services. San Francisco provides customized hiring and employee training services to companies including financial assistance for training programs and recruitment assistance for pre-screening potential employees.
Real Estate: Site selection, relocation and expansion assistance of factories with guidance towards areas which are zoned and appropriate for design and manufacturing.
Business Development: Access to an extensive network of business resources and referrals, focused to the needs of the individual business, as well as training and education referrals suited to the design and manufacturing communities.
Five-Point Plan for PDR
Mayor Edwin M. Lee launched a five-point plan in 2012 to grow and preserve San Francisco's Production, Distribution, and Repair (PDR) businesses, ensuring that PDR businesses will have the room to grow in San Francisco and continue to create good manufacturing jobs and produce and distribute locally made products and goods. This plan includes:
Build New PDR Space on Private Sites. Encourage the development of new industrial space on underutilized private sites, incentivized by newly passed legislation that allows the owners of vacant and underutilized space to develop new industrial space.
Build New PDR Space on Public Sites. Following on projects like the Produce Market and the planned Pier 70 development, the City will explore opportunities for the creation of industrial space on additional public sites.
Upgrade Existing PDR Space. Encourage job-dense industrial uses in manufacturing and distribution over less intensive uses such as storage.
Preserve Existing Industrial Space. In addition to building new, modern and more efficient industrial space, it is important to support the success of existing PDR space in core industrial areas. The City will strengthen outreach to owners of industrial buildings and connect them to PDR tenants.
Retain and Grow PDR Businesses. Support the growth and success of San Francisco PDR business by continuing to provide a single-point of contact at the City for PDR businesses, funding technical assistance for PDR firms, and connecting PDR businesses to workforce and loan programs. The Mayor will announce new initiatives to drive business to local PDR firms and focus on key PDR industries including the Food and Beverage sector.
Make to Manufacture
San Francisco's deep history of manufacturing combined with a number of hardware incubators, and a strong regional supply chain provide a powerful platform for the city to strengthen its advanced manufacturing ecosystem. The playbook looks at different ways government, nonprofit, and private sectors can contribute to the growth of the sector.
News Release
Download Report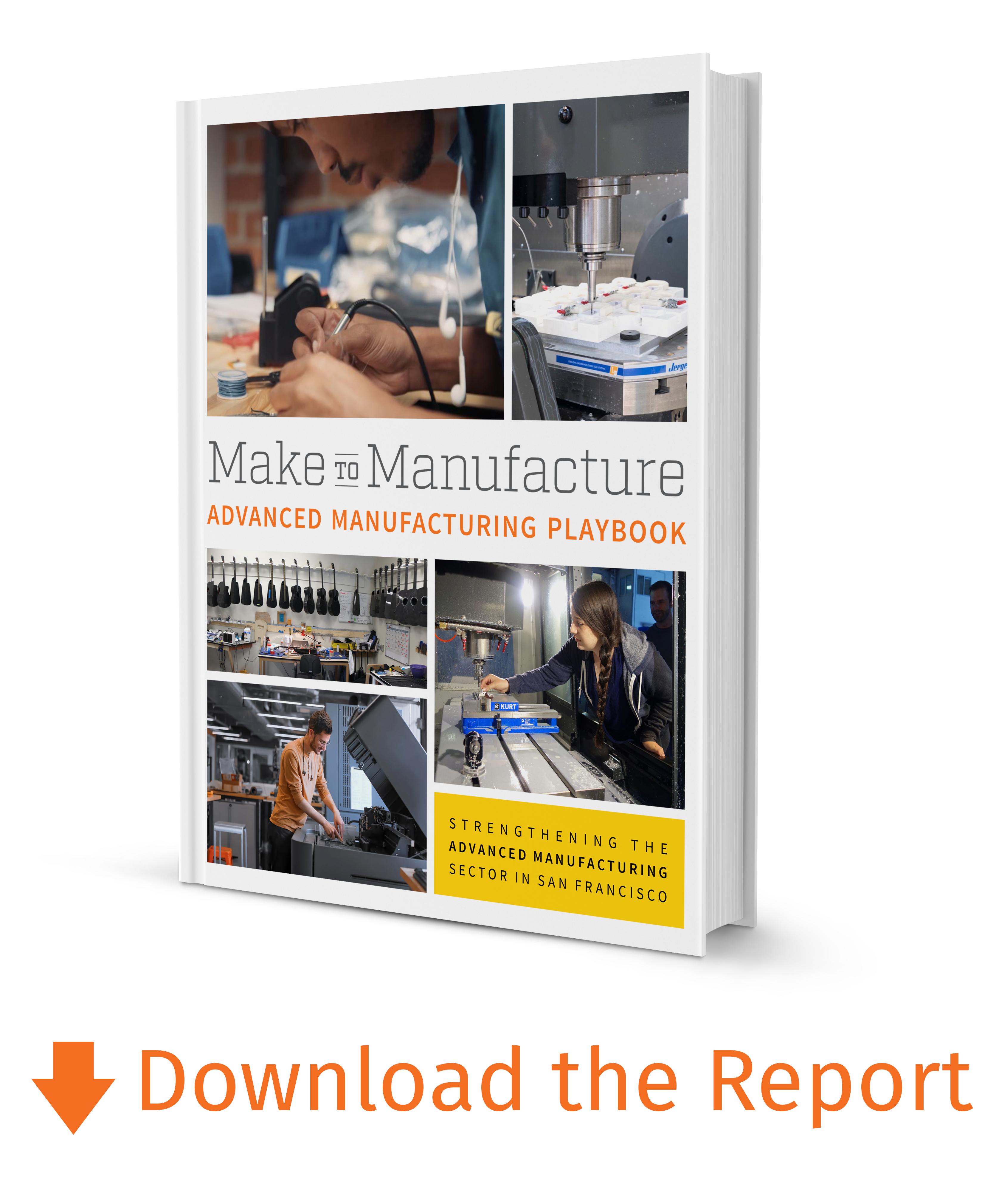 Food & Beverage Sector
San Francisco is experiencing a surge of interest in developing a more sustainable food system, with food and beverage manufacturing and distribution sectors growing again after many years of decline. As of 2012, San Francisco had 370 Food and Beverage production and distribution firms, employing just over 5,000 workers.
In November 2014, the San Francisco Planning Department, OEWD and SPUR released Makers & Movers Economic Cluster Strategy: Recommendations for San Francisco Food & Beverage Manufacturers & Distributors, a comprehensive study exploring trends in the food and beverage production and distribution sectors and offering specific policy recommendations to support food and beverage production and distribution businesses in San Francisco.
The report included four Cluster Strategies to support the local food and beverage industry:
Increasing the supply of affordable, suitable space;
Improving transportation access and transit options for employees, including improving late night and early morning transit access;
Developing and retaining skilled local workforce; and
Providing technical support.
SFMade
SFMade is a California 501(c)(3) non-profit corporation, established in 2010 and headquartered in San Francisco. It is the only organization of its kind focused on building San Francisco's economic base by developing the local manufacturing sector. SFMade's mission is to build and support a vibrant manufacturing sector in San Francisco, that sustains companies producing locally-made products, encourages entrepreneurship and innovation, and creates employment opportunities for a diverse local workforce.
Find out more about SFMade at SFMade.org.
Contact
For more information, please contact Susan Ma at susan.ma@sfgov.org or at 415-554-6648.
Other Helpful Links
Tax Credits & Financial Assistance
LOCAL
The Central Market Street and Tenderloin Area Payroll Expense Tax Exclusion (the "Exclusion") permits persons maintaining a fixed place of business within the Central Market Street and Tenderloin Area (the "Area") and that meet the requirements of section 906.3 of the Business and Tax Regulations Code (the "Code") to exclude a portion of their payroll expense from the payroll expense tax base for up to six years from the later of May 20, 2011, and the date the person commenced business in the Area. However, the Exclusion expires on May 20, 2019, and may not be taken after that date.
STATE
The California Competes Tax Credit is an income tax credit available to businesses that want to come to California or stay and grow in California. Tax credit agreements will be negotiated by GO-Biz and approved by a California Competes Tax Credit Committee, consisting of the State Treasurer,the Director of the Department of Finance, the Director of GO-Biz, one appointee from the Senate, and one appointee of the Assembly.
The Manufacturing and Research & Development Equipment Exemption allows manufactures and certain research and developers to obtain a partial exemption of sales and use tax on certain manufacturing and research and development equipment purchases and leases.
CA-STEP will provide direct financial assistance to eligible small businesses under the ICEP, by reimbursement of qualified, reasonable and necessary expenses for the selected export promotion activity. The ICEP program provides up to $3,000.00 per approved company/per year for qualified export promotion costs.
The New Employment Credit (NEC) is available for each taxable year beginning on or after January 1, 2014, and before January 1, 2021, to a qualified taxpayer that hires a qualified full-time employee on or after January 1, 2014, and pays or incurs qualified wages attributable to work performed by the qualified full-time employee in a designated census tract or economic development area, and that receives a tentative credit reservation for that qualified full-time employee. In order to be allowed a credit, the qualified taxpayer must have a net increase in the total number of full-time employees in California.
A full list of state business tax credits can be found on the Franchise Tax Board's website.
FEDERAL
The Work Opportunity Tax Credit is an income tax credit for employers who hire employees from eligible groups including youth, ex-offenders, and public assistance recipients.
Domestic Production Activities Deduction by small and large businesses. Thisdeduction is intended to provide tax incentives for businesses that produce most of their goods or work in the United States rather than sending that work overseas.
A full list of federal business tax credits can be found on the Internal Revenue Service's website.
CA State Laws and Policies
For information on California state laws and policies, visit the Department of Industrial Relations.