1st Gen Student Maximizes Young Adult Services with Internship with Former Senator Kamala Harris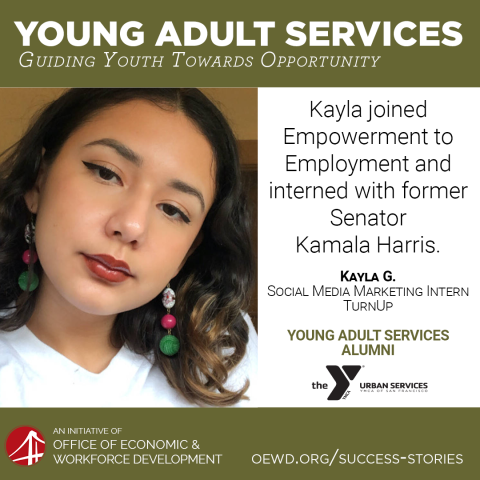 Kayla  was a first-generation student at the University of San Francisco, and a member of the Muscat Scholars program when she learned about the Young Adult Services offered through San Francisco YMCA's Empowerment to Employment program.
Empowerment to Employment is a program funded by the Office of Economic and Workforce Development "to create pathways to sustainable employment…" The Empowerment to Employment program offers participants six weeks of paid training, and a $400 stipend at the end of the six-week paid training at zero-cost to participants.
Kayla gained knowledge, experience and important connections to initiate her career in social justice. Kayla's participation in the program landed her 3 internship roles, one most notably with then U.S. Senator Kamala Harris.
As a result of the professional development from Empowerment to Employment, Kayla has her foot in the door and landed a role as a Social Media Marketing Intern with a youth activism not-for-profit, TurnUp.

Read the original story from the University of San Francisco: USF People Make the Most of USF Connections