BAYCAT Intern Lands Her Dream Job at Pixar Animation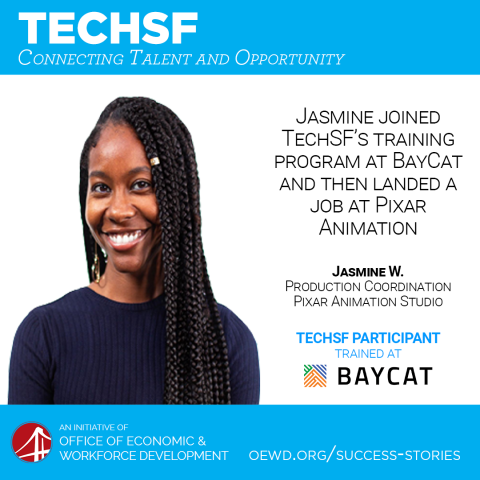 Jasmine, a SF State graduate and Broadcasting Major, joined the 2019 BAYCAT Studio Internship, a part of TechSF training programs.  She was looking to gain more professional experience as a production assistant and enjoyed editing.  
After the internship, BAYCAT staff recognized that Jasmine's work ethic and attitude were great assets to the team and hired Jasmine as an Assistant Media Mentor for their Summer Media Camp in 2019. At the Summer Media Camp Jasmine helped the high school and middle school-aged youth media producers make films about local artists and entrepreneurs.  
After gaining her experience and new skills, Jasmine continued to look for a full-time role in the media industry. With the help of BAYCAT, Jasmine was placed in a full-time production coordination position at Pixar Animation Studio in April 2020. 
---
For more information about how to join the Tech SF training program:
Attend a TechSF orientation: