City Celebrates the Opening of Service Hub for Homeless Families, Aided by a $1 Million Nonprofit Sustainability Initiative Grant
Mayor's Nonprofit Sustainability Initiative has assisted more than 80 neighborhood-serving nonprofits with space acquisition, lease negotiation, and fiscal readiness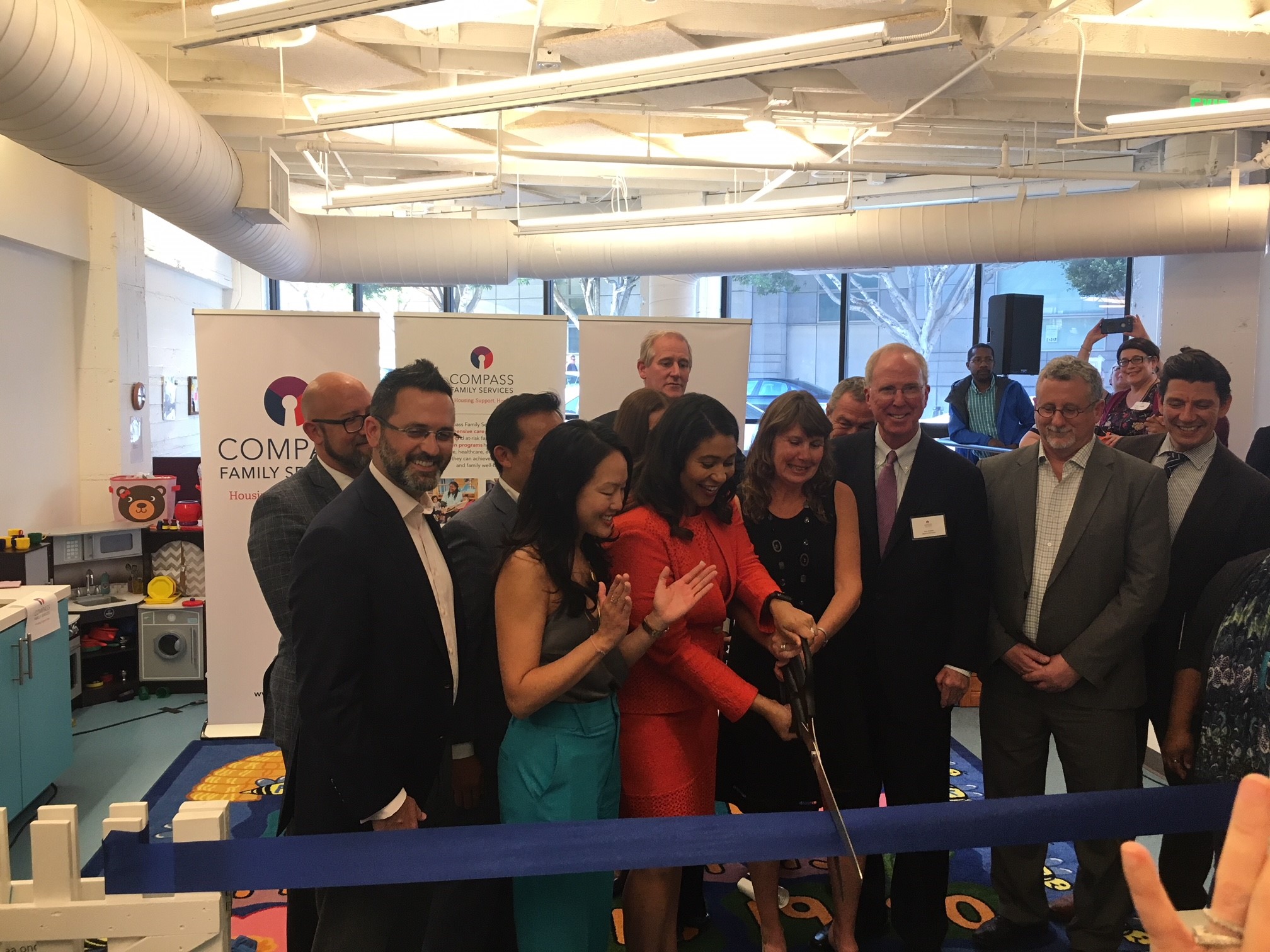 For Immediate Release: Thursday, September 20, 2018
Press Contact: Gloria Chan, (415) 554-6926, Gloria.chan@sfgov.org
**PRESS RELEASE**

City Celebrates the Opening of Service Hub for Homeless Families, Aided by a $1 Million Nonprofit Sustainability Initiative Grant
Mayor's Nonprofit Sustainability Initiative has assisted more than 80 neighborhood-serving nonprofits with space acquisition, lease negotiation, and fiscal readiness
San Francisco, CA—Today Mayor London N. Breed and the Office of Economic and Workforce Development (OEWD) together with the community celebrated the grand opening of Compass Family Services at 37 Grove Street. The new service hub for homeless families received a $1 million grant from the Mayor's Nonprofit Sustainability Initiative a program that maintains and expands services for residents by helping nonprofits fight displacement due to the high cost of real estate, and overcome barriers to growth in San Francisco.
"Families facing homelessness need support from organizations. More than 2,000 of our public school students live doubled-up with friends or family, in cars or in other unstable situations, including on the streets," said Mayor Breed. "The Nonprofit Sustainability Initiative is helping community-serving organizations like Compass Family Services find stable, affordable space so that they can focus on their mission and not where they'll be next year."
Since the Nonprofit Sustainability Initiative announced its first grants in 2017, the program has seeded the acquisition of 63,893 square feet of nonprofit-owned space and stabilized 95,098 square feet of leased space for an average of 7.6 years. The Office of Economic and Workforce Development collaborates with the Mayor's Office of Housing and Community Development, the San Francisco Arts Commission, Northern California Community Loan Fund and other partners on this initiative. www.oewd.org/nonprofits
"The opening of Compass Family Services marks an important milestone for the Nonprofit Sustainability Initiative, and supports a business that has a 100-year legacy of service. The Office of Economic and Workforce Development remains committed to helping nonprofits stay and grow in San Francisco so that all people can access arts, child care, legal services, job training and opportunity in our city," said Joaquín Torres, Director of the Office of Economic and Workforce Development.
"Compass Family Services is deeply grateful for the Nonprofit Sustainability Initiative in helping us create a permanent family services hub in the heart of the City, telling homeless families – we see you, we are not going anywhere, and we are investing in your future," said Compass Family Services' Executive Director Erica Kisch.
Compass Family Services helps homeless and at-risk families by providing temporary shelter, transitional shelter, long-term housing solutions, nationally accredited childcare, mental healthcare, and family resource center. Last year, the nonprofit served more than 5,000 parents and children, or approximately 1,700 families.
Compass previously leased two locations with below-market rents and was at risk of rents tripling when the leases expired. Their new home provides an additional 2,800 square feet, more opportunity for coordination between services, and a more welcoming space at street level.  The new space will allow Compass to expand its programs, including a partnership with Project Legal Link, which provides pro bono legal aid.
The Department of Homelessness and Supportive Housing also funds Compass Family Services to operate the City Center Access Point, one of two city access points for Family Coordinated Entry. Access Points are localized community gateways into San Francisco's Homelessness Response System, which is the overall system of programs and housing opportunities for families experiencing homelessness.
The Nonprofit Sustainability Initiative also awarded space acquisition funds to: Community Youth Center, Family Connections, Mission Neighborhood Centers, and Planned Parenthood. The next round of awards will be announced in November 2018.
About the Office of Economic and Workforce Development (OEWD)
The Office of Economic and Workforce Development's (OEWD) mission is simple – we support the ongoing economic vitality of San Francisco. OEWD provides city-wide leadership for workforce development, business attraction and retention, neighborhood commercial revitalization, international business and development planning. For more information, go to: www.oewd.org
###