CPMC Employer Spotlight and Interviewing Event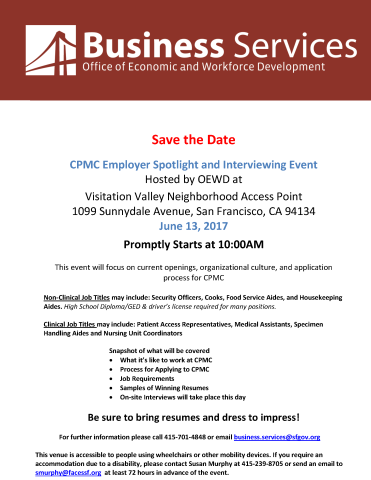 Hosted by OEWD
CPMC Employer Spotlight and Interviewing Event
Hosted by OEWD at
Visitation Valley Neighborhood Access Point
1099 Sunnydale Avenue, San Francisco, CA 94134
June 13, 2017
Promptly Starts at 10:00AM
This event will focus on current openings, organizational culture, and application process for CPMC
Non-Clinical Job Titles may include: Security Officers, Cooks, Food Service Aides, and Housekeeping Aides. High School Diploma/GED & driver's license required for many positions.
Clinical Job Titles may include: Patient Access Representatives, Medical Assistants, Specimen Handling Aides and Nursing Unit Coordinators

Snapshot of what will be covered
 What it's like to work at CPMC
 Process for Applying to CPMC
 Job Requirements
 Samples of Winning Resumes
 On-site Interviews will take place this day

Be sure to bring resumes and dress to impress!

For further information please call 415-701-4848 or email business.services@sfgov.org
This venue is accessible to people using wheelchairs or other mobility devices. If you require an accommodation due to a disability, please contact Susan Murphy at 415-239-8705 or send an email to smurphy@facessf.org at least 72 hours in advance of the event.

CPMC Employer Spotlight 6-13-16.pdf