Daily Jobs - April 27th 2017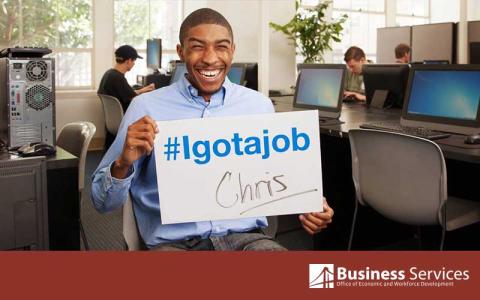 Office of Economic and Workforce Development (OEWD)
Business Services
April 27th 2017
Daily Job List
These opportunities are made possible by the First Source Hiring Program.
In order to be considered, please submit resumes of qualified candidates to sfjobs@manpower.com as a MS Word document and indicate in the subject line which position(s) they are applying for.
All positions are located in San Francisco unless otherwise stated.
Administrative/Clerical/Front Desk
Children's Council of San Francisco- For over 40 years, Children's Council has been the central hub for San Francisco's child care community. Our mission is to connect families to child care that meets their needs and to work with parents, providers and community partners to make quality child care and early education a reality for all children in our city.
Client Relations Representative
$17.73 per hour (full time M-F 8:30am-5pm)
Deadline to apply: May 10th 2017
Qualifications:
You like to be early to everything- you are painstakingly punctual.
You are a "people person" with a can-do positive attitude, easy manner and a high energy level.
You are professional at all times and you manage stressful situations with grace and poise.
You thrive in a busy, bustling environment
Ideal candidate is bilingual in English and Cantonese, but will consider candidates who are not fully bilingual
Must have at least 1-3 years' experience in an administrative role
Must be Proficient in Microsoft Office products, specifically Outlook and Word
Responsibilities:
Welcome visitors by acknowledging and greeting them, in person or on the telephone courteously and professionally.
Ensure clients get served expediently by maintaining staff availability calendars and department directories, receiving paperwork, and directing clients to the appropriate resources.
Maintain safety and security by following procedures; monitoring logbook; issuing visitor badges and ensuring the confidentiality of clients
Cauas Justa::Just Cause - Causa Justa ::Just Cause builds grassroots power and leadership to create strong, equitable communities. Born through mergers between Black organizations and Latino organizations, we build bridges of solidarity between working class communities.
Immigration Rights Campaign Organizer
$20.67-$22.12 per hour (full time)
Deadline to apply: May 10th 2017
Qualifications:
Strong commitment to social, racial and economic justice
At least one year experience in community organizing with low-income communities of color
Knowledge of issues impacting immigrants local, state and nationally
Familiarity with San Francisco and Oakland including – local history, geography of the city / neighborhoods, knowledge of various organizations, political issues and players etc.
Strong personal organization skills
Experienced with computers - including familiarity with Word, Excel and Google calendar
Fully bilingual in Spanish / English - including the ability to translate written documents from one language to the other. Native Spanish speakers preferred
Responsibilities:
Plan and facilitate "know your rights trainings" in San Francisco with the San Francisco Immigrant Legal and Education Network.
Identify and build relationships with local organizations and institutions that will be appropriate venues for these trainings
Track and report outcomes of these trainings to the rest of the organization and funders
Provide case management to SF Residents impacted by immigration enforcement and mass deportation
Hold responder shifts on 24hr Rapid Response Hotline
Support Rapid Response efforts including: ICE incident verification, legal referrals intakes and detention accompaniment
Coordinate and staff member campaign committee
Recruit, retain and develop members in campaign committee
Provide support to members to carry out campaign activities
Mobilize members to campaign events, actions and organizational activities
Responsible for tracking and reporting all outcomes related to our member recruitment, retention and development work to the rest of the organizations and our funders
Support the Immigrant Rights Lead Organizer in implementing any aspects of the campaign work as needed
Participate and support all organizational events and activities as needed including but not limited to fundraising, civic engagement, mass mobilizations etc.