Dream Keeper Initiative Participant Produces Tenderloin Kwanzaa Event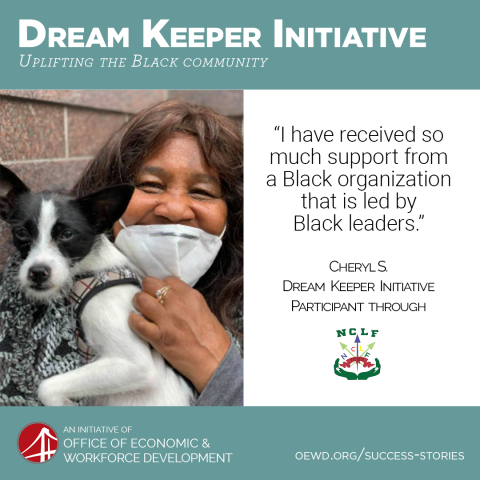 New Community Leadership Foundation (NCLF) is one of the Office of Economic and Workforce Development's Dream Keeper Initiative partners. 
The NCLF supported community member Cheryl Shanks to produce an event called the Tenderloin Kwanzaa Event. The Tenderloin Kwanzaa event brought together a diverse group of community residents, vendors, organizations, and leaders from all backgrounds to "restore and prosper". 
Cheryl is a Black woman with a disability who is currently residing in a SRO. Cheryl had these remarks, "The experience I am having with NCLF is a unique experience. I have received so much support from a Black organization that is led by Black leaders. The support has really made me feel like I'm a part of uplifting the Black community. I am looking forward to continuing to work with the Dream Keeper Initiative and NCLF in the future." 
Cheryl has goals of having her own production and consulting company. Currently, NCLF is working with Cheryl to achieve this, in addition to expanding the Kwanzaa event to other neighborhoods and producing an event for Black history month.
---
Sign up for email updates: Click here
We prepare, train, and connect San Franciscans to sustainable jobs and strong careers in many sectors. Everyone deserves an opportunity to thrive.