First in the Family to Attain a High School Diploma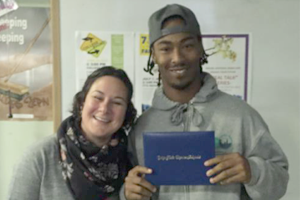 A primary component of the RAMP program is assisting students in attaining their GED or High School Diploma. 
At a recent SFCC Community Meeting where James was presented with his diploma, he stared speechless at it for quite some time before saying, "I never thought I would see this day. I thought I would be dead or locked up – I never thought I would be able to finish High School. I am the first person in my family to get a Diploma."
---
The San Francisco Conservation Corps (SFCC) is a non-profit job readiness, High School Diploma, and Career Development program serving young adults between the ages of 18 and 26 who work within crews to address community needs through service and conservation-related work. OEWD partners with SFCC in providing the Reconnecting All through Multiple Pathways (RAMP) Program, a San Francisco Young Adult WorkLink Access Point. SFCC job readiness opportunities for young adults include, landscaping and open space restoration, recycling of beverage containers, electronic waste, dumping tires and used oil, and Zero Waste services for special events across San Francisco. Concurrently and in partnership with the John Muir Charter School, the young adults focus on attaining their High School Diploma or participate in the Corps-to-Career higher education program.