Goodwill Helps Older Adults Carve a Career Path in the Tech Industry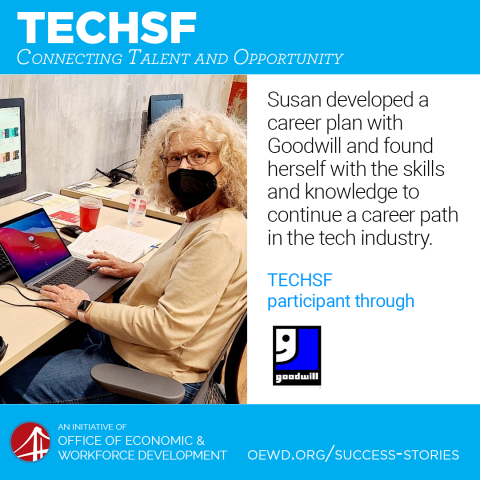 The San Francisco Goodwill is a grantee of the Office of the Economic and Workforce Development's TechSF program. 
---
Susan S. is a Nob Hill resident in San Francisco who was seeking new opportunities to build her skills in technology. But Susan was concerned about the challenges older adults face in the tech industry and connected to San Francisco Goodwill Community Job Center.
Susan worked together with Mihn Tran, CAP Specialist at Goodwill San Francisco, to map out her continued career development plan. Susan began her tech training exploration and immersed herself into several training programs which were relevant to her educational needs. "The objective is to provide the individual with sufficient skills and knowledge of using technology and applying it," said Minh. 
Susan approached each assignment with eagerness, a strong work ethic and asked questions to ensure she understood each topic.  Susan graduated from the TechSF On-Ramp program within two months of starting her training. Afterwards, Susan went on to complete the Pathways to Employment (job-readiness) program. This is a major accomplishment for Susan, despite her initial concern about the challenges of grasping and understanding new technology.
Now, Susan is comfortable with her computer skills and has the technology fundamentals built up.  Susan expressed her desire to continue a career path in the tech industry and is building her confidence by taking online courses offered by Google Suite Training and LinkedIn Learning. Congrats to Susan and her road to success in tech!
---