Hospitality Initiative Participant Pivots Career to Line Cook during Pandemic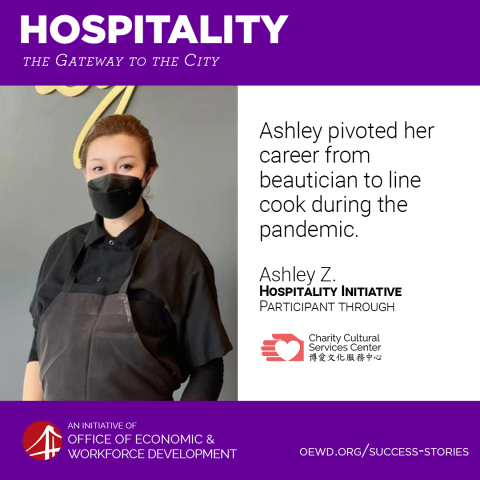 Charity Cultural Services Center (CCSC) is one of the Office of Economic and Workforce Development's Hospitality Initiative partners. 
Prior to the pandemic, Ashley Z. was a beautician who was forced to close her salon due to COVID. 
Ashley enrolled in and graduated from CCSC'S 18-week Western Cooking class in August. CCSC's Western Cooking class centered upon current food and beverage industry standards of food preparation, cooking, sanitation and safety, communication skills and plating techniques.
After being referred to a job fair, Ashley was successfully hired as a Line Cook at Lighthouse Cafe in South San Francisco. Ashley's employers have been so impressed with her, saying: "Ashley Zhou's level of thoughtfulness is rare even among hospitality professionals. I just have to say how wonderful she has been. She has also taken on a leadership role, helping a fellow Chinese speaker understand the job duties."
---
Sign up for email updates: Click here
We prepare, train, and connect San Franciscans to sustainable jobs and strong careers in many sectors. Everyone deserves an opportunity to thrive.