Hot Jobs April 5th 2017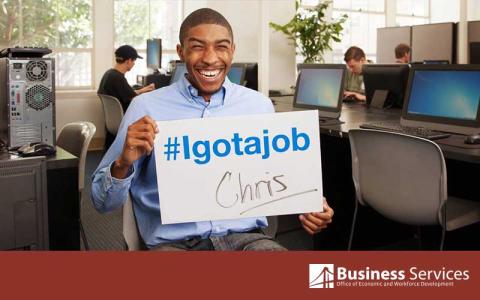 First Source Hiring Program.
Office of Economic and Workforce Development (OEWD)
Business Services
April 5th 2017
Daily Job List
These opportunities are made possible by the First Source Hiring Program.
In order to be considered, please submit resumes of qualified candidates to sfjobs@manpower.com as a MS Word document and indicate in the subject line which position(s) they are applying for.
All positions are located in San Francisco unless otherwise stated.
Restaurant & Food Services
Good Eggs- Good Eggs is an online market that delivers good groceries to customers' homes throughout the Bay Area even days a week.
Packer
$15 per hour (full time)
Deadline to apply: April 18th 2017
Qualifications:
High School diploma or equivalent.
Previous food industry pick/pack experience.
Willingness to work in a team environment.
Good communication skills.
Excellent attention to detail.
Ability to read and measure.
Time management skills.
Organizational skills.
Comfort with a calm but focused environment
Responsibilities:
Examine and inspect containers, materials, and products in order to ensure that packing specifications are met.
Mark and label containers, container tags, or products, using marking tools.
Obtain, move, and sort products, materials, containers, and orders, using hand tools.
Place or pour products or materials into containers, using hand tools and equipment, or fill containers from spouts or chutes.
Remove completed or defective products or materials.
Seal containers or materials, according to our standards.
Clean containers, materials, supplies, or work areas, using cleaning solutions and hand tools.
Load materials and products into staging area so they can be picked.
Measure, weigh, and count products and materials.
Record product, packaging, and order information on specified forms and records.
Inventory management tasks.
Maintain quality of service by following operational standards.
Perform other kitchen duties as assigned
Good Eggs
Produce Associate
$15 per hour (2 full time positions)
Deadline to apply: April 18th 2017
Qualifications:
High school diploma or equivalent
Some warehousing, farm, farmers market, restaurant, or grocery experience is a plus
Experience working on a team
Outstanding communication skills
Time management skills; experience working on a deadline
Strong organizational skills
Familiarity with basic computer skills; ability to learn and use new software
Responsibilities:
Product staging and storage.
Product preparation including: weighing and separating product, marking with identifying information.
Quality Control.
Cleaning and organizing of returned materials and general food hub area.
Inventory management tasks.
Loading & unloading of cars and trucks.
Maintain quality of service by following operational standards
You'll use a smartphone, iPad, and a computer for part of your job. You should be familiar with navigating your way through different computer apps and programs.
Urban Remedy - Urban Remedy is a plant-based organic food company that embodies the belief that Food is Healing. We were founded by Neka Pasquale, a licensed Acupuncturist who saw first-hand the healing power of food with her patients.
Crew Member
$DOE (full time)
Deadline to apply: April 18th 2017
Qualifications:
1-2 years of retail experience; POS experience preferred
Strong communication skills; proficient in English both spoken and written
Motivated self-starter
Energetic and optimistic attitude
Passion for health and wellness
Professional appearance and attitude
Responsibilities:
Have flexibility in schedule to meet expectations of Store Manager and store needs
Ability to communicate effectively, and professionally at all times, including but not limited to, times of adversity and change
Ability to manage cash effectively to ensure minimal shrink
Willingness to learn inventory management to ensure refrigerators are stocked appropriately and purge is minimized
Willingness to adapt to changes in scheduling, company policies and procedures that are consistent with company growth and goals
Degenkolb Engineers-Founded in 1940, Degenkolb Engineers' practice reflects more than seven decades of commitment to technical expertise, exceptional client service through close collaboration, and life-long learning. Our innovative structural designs have saved clients hundreds of millions of dollars and are delivered by taking full advantage of our expertise and experience
Help Desk Coordinator
$DOE
Deadline to apply: April 14th 2017
Qualifications:
Minimum of 6 months of relevant practical work experience in computer support.
Good problem-solving skills.
Effective verbal and written communication skills.
Desire to work as an integral part of a team, sponsoring other members in skill development and supporting each other's projects.
Be organized and have the ability to effectively manage multiple simultaneous tasks.
Working knowledge of computers, and computer terminology, printers, SharePoint, Office programs, and mobile devices.
Have a desire to pursue education in order to expand knowledge of computer systems and technologies.
Solid hardware and software troubleshooting skillset.
Responsibilities:
First point of contact for information systems with regard to trouble-related issues and requests.
Administrative support for the department.
Provide quality service to all clients.
Log requests in the database.