Job Opportunities for week of April 5, 2017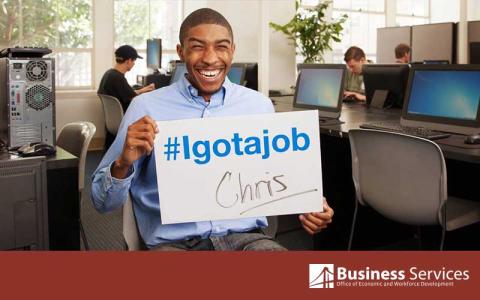 A Message for Job Seekers:
Looking for a new job? You are already one step closer by receiving these exciting updates from the Office of Economic and Workforce Development's Business Services Team! 
Job seekers may apply directly to the businesses as instructed. If you know someone who would like to sign up to receive these emails, they can simply visit http://oewd.org/email and select Workforce Job Postings. 
Please note:
New job/event announcements will be distributed every Wednesday by 5:00 pm.
Good luck! 
---
Click to Print and View all Application Instructions
NEW! Advantage Solutions Part Time Event Specialist Strong customer service; must have computer access and/or smartphone; must be at least 18 years old; background/drug screen required
Apply at careers.advantagesolutions.net or contact Rebecca Del Cid: 714-581-4779, R@advantagesoultions.net  
NEW! Swords to Plowshares Surveyor (for Veterans only) Competence in geometry, trigonometry, physics, and engineering;  clean driving record over the past five years; valid CA driver's license; passing scores on a required test (practice tests available!) To begin process, submit cover letter and resume to employment@stp-sf.org along with branch of service and dates served. Apply by May 1, 2017  
NEW! Fisherman's Wharf Businesses.  Available jobs are listed below in alphabetical order by company name: Bay Company Store; Blazing Saddles Bike Rentals & Tours; City Segway Tours; The Crab House; Holiday Inn Fisherman's Wharf; Hotel Zephyr; Joe's Crab Shack; Madame Tussauds; Magowan's Infinitem;  Mirror Maze; Na Hoku, Inc.; PIER 39 Security; San Francisco Dungeons; San Francisco Electric Tour Company; San Francisco Kites & Toys To apply: http://www.fwcbd.com/wharf-jobs-2017  
San Francisco Deli Sandwich Maker/Food Prep/Cashier Minimum 6 months experience Please send resume to univht@gmail.com
Pockard Car Detailing Car detailer/Washer Full-Time; $14/hourly To apply: send reume to pakkarj@gmail.com or text 415-602-9698
Accredited Caregivers Specialists Caregiver Assist elderly males with daily activities; at least 2 years of caregiver experience for seniors; CAN, HHA, RN may qualify without experience; Monday-Saturday 10AM-3:15PM;  $18/hourly  
Cable Company Service/Installation Technicians (Veterans ONLY) Current Driver's License and clean driving record required, residence in the San Francisco Bay Area; available for an in-person interview April 13th or April 14th 3 forms of ID:  DD-214,Social Security card; valid California Driver's License To apply:  send a cover letter and resume along with military branch served, years served, and discharge status to employment-event@stp-sf.org. Please include your MOS in the subject line. Final day to apply is April 10, 2017.  
Project Open Hand Outreach Coordinator BA in Social Work, Mental Health, or Human Services related field ; experience working with clients with multiple diagnoses (i.e. substance abuse, mental illness, critical illness) ; at least one year outreach/field work experience ; fluent in Spanish and English To apply: https://home.eease.adp.com/recruit2/?id=15550581&t=2
Center for Elders Independence Oakland
Bus Drivers (10 needed) 2 Years driving experience with 1 year driving elders REQUIRED;  Class B and Passenger endorsement license; starting $17/hourly, 40 hr week, will consider Part Time Contact: Robert Larkrith, (510) 544-9055
United States Census Bureau
Field Representatives  Full duties and qualification listed on Recruiting bulletin LARO-17-00-001/002 https://www.census.gov/regions/los_angeles/www/jobs/california_jobs.php or call 1-800-992-3529  
Airport Commission
Custodians Hiring over 15 Airport Custodians to join our team. We provide excellent safety and training programs to support and promote  opportunities within the custodian field. Online applications will only be accepted April 3, 2017 at 8:00am through April 5, 2017 at 5:00pm For detailed informational on this recruitment, visit: https://www.jobaps.com/SF/sup/bulpreview.asp?R1=CBT&R2=2708&R3=901794    
Playworks  Americorps
Member Recess Coach Serve at least 1700 service hours for 10 month period (August-September); Coaches receive a modest A living stipend throughout year of service ($24,930, paid out semi-monthly) as well as a $5,815 Education Award for use at Title IV colleges or universities tuition, or to pay back qualified student loans (requires completion of a minimum of 1700 hours of service) and health insurance for member at no cost. Learn more and apply online at http://www.playworks.org/coach.  
Kohl's in San Rafael
Many positions available: Full Time Clothing Sales Supervisor, Part Time Ad Set Associate, PT Freight Associate, PT Jewelry Consultant, PT Customer Service, PT Shoes Sales Associate, PT Clothing Sales Associate To apply:  log on to kohlscareers.com and select the location. The job description will be available for each position.    
SF City Target West
2675 Geary Blvd, San Francisco   SF Central Target Metreon, 789 Mission Street, San Francisco  Target Express, 1830 Ocean Avenue, San Francisco
Looking to fill for Target Team Member, Overnight Logistics Team Member, Cashier Team Member, Sales Floor Team member Please apply online at Target.com/careers or in-person at Target's hiring kiosks Please note walk-in interviews CANNOT be accommodated.  Interested candidates will be contacted by Target directly for interview.  Additionally, please add the names of referred candidates to the attached Target CBO Referral Form and send it to MHH at snajera@missionhiringhall.org no later than April 15th   
Jobsbucket
Bay Area Employment Opportunities To apply, please visit http://jobsbucket.wordpress.com/ Enter your email address to follow this blog and receive notifications of new posts by email.
.
AT&T
Hiring Bilingual English/Vietnamese, Hindi, Punjabi, Spanish, Mandarin, Cantonese or Russian PT Retail Sales Consultants Apply: att.jobs/parttime  
UPS
Part Time Package Handler Preload shift: 3AM-9AM Night: 11PM-4AM This is a union job with full medical benefits, 401k, Tuition Reimbursement and promotion from within. Please refer your clients to www.upsjobs.com to complete an application.
University of California San Francisco – Temporary Employment Program (TEP) JVS is recruiting candidates for the UCSF TEP, an internal UCSF based temporary employment program that provides temporary labor to all departments. They seek candidates with administrative and business based experience to work in academic and healthcare settings.  Candidates are screened monthly.   Selected participants and their employment specialists will be contacted for an interview. Please send resume to Peter Fong at pfong@jvs.org and please put "UCSF TEP" in the Subject Line
Chipotle Mexican Grill
Hiring for all Bay Areas Restaurant Team Member – Crew
Crew members get to learn about and work at a variety of stations: Tortilla, Salsa, Prep, Grill, Expo, and Take-Out.  Build a real career from scratch, no experience required.  Part time and full time positions available.To apply, please visit www.chipotle.com/careers
SFMade
Employment opportunities with San Francisco manufacturers To apply, please visit http://www.sfmade.org/job-board/job-listings/
Breather
Operations Associate  Keep spaces fresh and clean for each and every Breather client and guest. This includes removing trash, wiping down surfaces, replenishing amenities, and keeping each space neat and tidy. $15/hr. To apply: https://boards.greenhouse.io/breather/jobs/586366?gh_jid=586366#app or send resume and cover letter to walter.mangandi@breather.com  
Managed By Q
Office Cleaners Tidy conference rooms and common areas to be ready for daytime staff operations among other duties in maintaining office space Apply to: ehildago@managedbyq.com