Job Opportunities for week of May 31 2017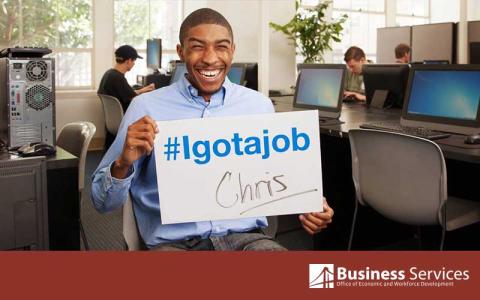 Job Opportunities for week of May 31 2017
Click to Print and View all Job Application Instructions
Mollie Stone's
Multiple Grocery Union positions
Apply at: http://molliestones.applytojob.com
University of San Francisco
Administrative Assistant-- Temporary Strong knowledge of computers and Microsoft Office Suite including Word, Outlook, PowerPoint and Excel; ability to work on multiple projects in a deadline driven environment; work experience in the following environments is a plus: Academic, Non-profit, or HR. Apply:https://careers-hroptions2.icims.com/jobs/1568/administrative-assistant/login?mobile=false&width=944&height=1228&bga=true&needsRedirect=false&jan1offset=-480&jun1offset=-420
Leading Automotive Company
Material Handlers and Production Associates Veteran-only apply; three forms of ID: DD-124, Social Security Card, Valid CA Driver's License; residence in San Francisco; start at $18/hr with benefits To apply: submit cover letter and resume to employment-event@stp-sf.org. Please include your branch of service and years served. Apply by June 12, 2017
Recchiuti Confections 
Sales Associate Retail experience, including cash handling and balancing cash drawer; a flexible schedule with full-time availability during holidays; ability to lift heavy objects, be on their feet all day, and move quickly. This is a part-time hourly position.  How to apply Please submit your resume and cover letter on our online application portal: http://eos-human-resources-consulting.breezy.hr/
Lowe's (Store #3095)
Multiple Positions: Stocking/Receiving, Delivery, Sales, PT Cashiers, PT Un-load, Seasonal Sales Apply at www.lowes.com/careers  
Allied Universal
Professional Security Officer Background check will be conducted; must pass a drug screen; must be able to obtain guard card Apply at: www.aus.com/careers
Remetronix
MISE Technician builds and installs large medical equipment
      Ø  Must be able to travel 80% to 100% percent (3 to 5 night a week away from home)        Ø  It is an hourly position of $18.00 to $22.00 an hour
      Ø  Background check will be conducted after a live interview or conditional offer of                 employment
      Ø  Pursuant to the San Francisco Fair Chance Ordinance, we will consider for                       employment qualified applicants with arrest and conviction records
      Ø  Must pass a drug screen
     Ø  All staff is dispatched from home
      Ø  All candidates will have a SKYPE interview
      Ø  Clean driver's record. Will need to drive and rent cars for the position                               Please send resumes directly to mary.ciociola@remetronix.com
Managed By Q Office Cleaners Tidy conference rooms and common areas to be ready for daytime staff operations among other duties in maintaining office space Apply to: https://onboardiq.com/managed-by-q/apply/copied-operator-applicants-chicago-operations
Jobsbucket  Bay Area Employment Opportunities To apply, please visit http://jobsbucket.wordpress.com/  Enter your email address to follow this blog and receive notifications of new posts by email.
Avis Budget Group  Apply now: https://careers.avisbudgetgroup.com/jobs/home/
Macy's
Cosmetics, Fine Jewelry, Foods, Security
To apply please visit www.Macysjobs.com
SF City Target West
2675 Geary Blvd, San Francisco   SF Central Target Metreon, 789 Mission Street, San Francisco    Target Express, 1830 Ocean Avenue, San Francisco
Looking to fill for Target Team Member, Overnight Logistics Team Member, Cashier Team Member, Sales Floor Team member Please apply online at Target.com/careers or in-person at Target's hiring kiosks Please note walk-in interviews CANNOT be accommodated.  Interested candidates will be contacted by Target directly for interview.  Additionally, please add the names of referred candidates to the Target CBO Referral Form and send it to MHH at snajera@missionhiringhall.org no later than June 15th.  
Best Buy
Assets Protection, Mobile Sales, Connected Devices Sales, Home Theater Sales, Appliance Customer Service and Inventory Specialist To apply: enter store #1125 Geary Blvd at www.bestbuy.com
Chevron
Customer Service To apply please visit: www.chevronstationjobs.com  
Bay Alarm
Sales Representative Valid CA Driver's License and clean driving record; background conducted Please send resume to Alison.cain@bayalarm.com
University of California San Francisco – Temporary Employment Program (TEP) JVS is recruiting candidates for the UCSF TEP, an internal UCSF based temporary employment program that provides temporary labor to all departments. They seek candidates with administrative and business based experience to work in academic and healthcare settings.  Candidates are screened monthly.   Selected participants and their employment specialists will be contacted for an interview. Please send resume to Peter Fong at pfong@jvs.org and please put "UCSF TEP" in the Subject Line
Advantage Solutions
Part Time Event Specialist Strong customer service; must have computer access and/or smartphone; must be at least 18 years old; background/drug screen required Apply at careers.advantagesolutions.net or contact Rebecca Del Cid: 714-581-4779, R@advantagesoultions.net  
The Olympic Club
Bar Back, Porter, Room Attendant, Dishwasher, Administrative Assistant, Golf Maintenance, Golf Operations To apply: www.olympicclub.com/careers and email resume to jobs@olympicclub.com
Humphry Slocombe
Two kitchen assistants Assist with serving ice cream for the Mission and Tenderloin locations.  Hours can be part-time or full-time.  Wage range is $13-$15 per hour depending on experience. To apply, please email resume to AnnieL@selfhelpelderly.org
San Francisco Deli Sandwich Maker/Food Prep/Cashier Minimum 6 months experience Please send resume to univht@gmail.com
SFMade
Employment opportunities with San Francisco manufacturers To apply, please visit http://www.sfmade.org/job-board/job-listings/
Substance Abuse Counselor
On Call & Regular Full-time Substance Abuse Counselors to provide counseling and case management services to multi-diagnosed mental health, substance abuse, homeless and disabled patients in the Tenderloin. Must be certified or registered in a cert program. Starting at $ 18.00/ hour. Send resume to tfleming@baartprograms.com or FAX to 415-928-3710 attn: Director.
Childcare Staffing
Child Development Instructional Substitute Minimum completion of 6 semester units of Early Childhood Education or Child Development $14.15-$19.00/hour Contact: 415-228-0817, www.childcare-staffing.com
Homebridge
Seeking Home Care Providers, no experience needed. Paid training is provided, full-time hours and 100% paid benefits. Perform domestic and household tasks and provide support to clients with personal care activities (Example: housekeeping, cooking, laundry, hygiene, bathing, toileting, grooming, and dressing). Provide assistance with mobility (moving about client's home) and range of motion exercise. Provide assistance with administering and refilling simple self-administered medications. Must be able to travel on foot, use public transportation (MUNI & BART) to travel to all parts of San Francisco to meet clients, accompany them to their appointments and perform job duties. Wage: $13.00/hour. To apply: recruiting@homebridge.org, 415-255-0679
Accredited Caregivers Specialists
Female Caregiver in San Francisco Experience with Alzheimer's a plus; at least 2 years of caregiver experience for seniors; CNA, HHA, RN may qualify without experience; Tuesdays, Thursdays, Saturdays from 8AM-2PM Apply: www.accreditedcaregivers.com