San Francisco Celebrates Grand Opening of Duc Loi's Pantry in Bayview Neighborhood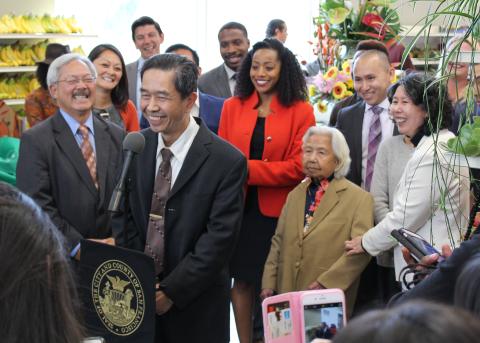 New full service grocery store brings fresh produce and jobs for local residents
San Francisco, CA—The Office of Economic and Workforce Development, Mayor Lee, Supervisor Malia Cohen together with Duc Loi's Pantry and the community today announced the grand opening Duc Loi's Pantry in the Bayview. Duc Loi, a family run independent grocer, is expanding their existing and popular location in the Mission District, and will offer a wide variety of fresh produce and other food products for the local neighborhood located at 5900 Third Street. The new store created 16 new jobs including seven employees who were hired from the Bayview community. 
"The family owned and operated Duc Loi's Pantry is a wonderful addition to our Bayview neighborhood," said Mayor Lee. "As the only grocery store in the neighborhood it not only provides our Bayview families with healthy food options, but it's hiring local residents and is a community serving business."
The arrival of Duc Loi Pantry in the Bayview means that local residents will now have access to fresh food and healthier food options, which has been a challenge since Fresh and Easy closed its doors more than two years ago. Mayor Lee, Supervisor Cohen's office, and the Office of Economic and Workforce Development (OEWD) worked closely with Sansome Pacific Properties, the former property owner, to ensure that the vacancy be filled with a community serving business. An intense recruitment and attraction effort launched followed by Fresh and Easy's closure with OEWD reaching out to more than 120 grocers.  
"This neighborhood has waited far too long for access to the healthy foods we all need to survive. The city has invested over $250,000 to deliver this grocery store because it was the right thing to do. Now it is up to the community to sustain this investment by taking advantage of the healthy food options that will be offered at Duc Loi, "District 10 Supervisor Malia Cohen.
As part of the recruitment and attraction, Duc Loi received a suite of services and resources through the Office of Economic and Workforce including: The First Source hiring program, the San Francisco Small Business Development Center (SFSBDC), and from the SF Shines Facade and Tenant Improvement Program. The First Source hiring program, which provides staffing services to organizations of all sizes, helped Duc Loi recruit and hire qualified local residents. Services ranged from drafting open job descriptions to promoting jobs including conducting outreach and recruitment to potential job seekers. As a result, Duc Loi's Pantry hired 16 new employees, including seven Bayview residents.
Duc Loi's Pantry was also paired with a business consultant to help secure a loan of $4.1 million from the Small Business Administration (SBA) to work through the business planning and development, expansion, and permitting process. The funding also allowed for the owners to acquire the site at 5900 3rd Street and build out the 14,000 sq. ft. space.
Additionally, Duc Loi's Pantry was able to access a $250,000 SF Shines grant through OEWD's Invest In Neighborhoods Initiative, a business attraction incentive that offers grocery operators and small storefront businesses pay for interior and exterior improvements in select neighborhoods including the Bayview.
"Duc Loi's Pantry is a wonderful addition to the 3rd Street commercial corridor and Bayview. The opening of Duc Loi brings good jobs to the community and ensure families in the neighborhood have access to healthy, fresh, sustainable and affordable foods," said Todd Rufo, director of the Office of Economic and Workforce Development. "The Office of Economic and Workforce Development is proud to lead the recruitment of local jobs to Duc Loi and I want thank Supervisor Cohen and the community for their leadership bringing this family owned grocer to the Bayview community."
Duc Loi's Pantry will carry fresh produce, deli meats, baked goods, hot and cold prepared foods, and other products and day to day groceries that are not currently readily available to local residents in order to help them lead healthier diets. The 14,000 square ft. grocery store features an in-store Peet's Coffee & Tea Kiosk. The owners of Duc Loi had a vision for the Bayview location which was a modern supermarket with underground parking for customers and a wide selection of diverse healthy foods and produce for residents of the Bayview.
Research shows that people who live closer to stores that sell healthy food have better diets.  Specifically, the amount of shelf space dedicated to fruits and vegetables at neighborhood food stores is positively associated with greater consumption of fruits and vegetables among nearby residents.  Food stamp participants who live more than five miles from their primary grocery store consume significantly less fruit than those who live within one mile of a grocery store.
"We are grateful to our community and City partners for all the support they've provided to make this vision a reality, and we are looking forward to serving our neighborhood and local residents for many years to come." said Howard Ngo, owner of Duc Loi's Pantry.
The opening of Duc Loi 's Pantry in Bayview is a major milestone of the Third Street Economic Development and Corridor Strategy, a strategy lead by the Economic Development on Third (EDoT) Steering Committee.  The EDoT Steering Committee was formed to promote the economic revitalization of Third Street in Bayview by supporting corridor businesses and property owners, in the achievement of creating a vibrant, clean and safe commercial district with a diverse mix of businesses and cultural facilities that meet the daily needs of the neighborhood.
Howard and Amanda Ngo are the proprietors of Duc Loi have been in the food retail business since 1987. The first market was a 600 square foot market located in the Mission. With hard work, the husband and wife team was able to grow the business and in 1997, after significant research and consideration, the family acquired the 18th and Mission location.  The new site allowed for Duc Loi to expand the business to a full service grocery store.  Their vision for the Bayview location is a modern supermarket with underground parking for customers and a wide selection of goods for residents of Bayview.
###

10.5.16 Duc Loi Pantry Grand Opening In Bayview.pdf