San Francisco Conservation Corps Member Commits to Education and Climate Action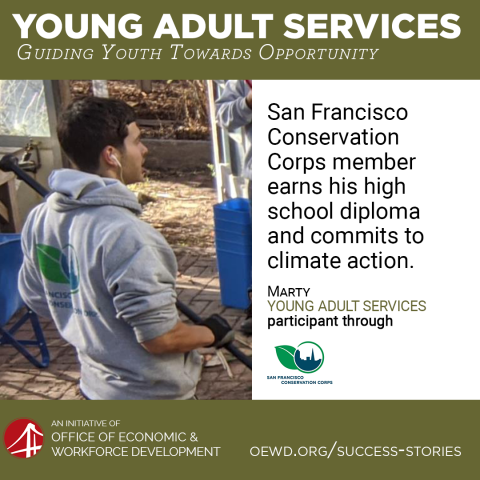 San Francisco Conservation Corps (SFCC) is a grantee of the Office of the Economic and Workforce Development's Young Adult Services. 
Marty joined San Francisco Conservation Corps' work readiness program with on-the-job training and education with John Muir Charter School to pursue his high school diploma. SFCC works with young people to enhance the environment as "Corps Members" through recycling, conservation, parkland improvements, and other climate-focused projects. Marty participated as a Corps Member and gained valuable skills and experience.  
Marty's skills and experience landed him a position with CityGrazing. CityGrazing is an organization dedicated to sustainable land management and fire risk reduction. While at CityGrazing Marty received additional training and support in the areas of animal husbandry, landscape management, and advanced horticulture practices.  
Marty returned to SFCC to finish his high school education. While working towards his diploma, Marty was accepted to be a Junior Supervisor for the San Francisco Public Utilities Commission Summer Eco-Internship program. Marty was a great addition to the team and really leveled up during the program.  
At the end of the Summer Eco program, Marty made one final push and was successful in acquiring his high school diploma from John Muir Charter School. Marty is committed to climate action and now works full-time on field projects as Supervisor at SFCC.