COVID-19 Program Highlights
IMPACT & HIGHLIGHTS OF COVID-19 FINANCIAL RELIEF PROGRAMS


San Francisco has committed nearly $24 million in ongoing COVID-19 small business financial relief to support more than 1230 small businesses.
 
The effects of COVID-19 on San Francisco small businesses and workers began weeks before the first Stay-At-Home Order on March 17. Chinatown began experiencing significant losses as early as January.
To support neighborhood businesses and workers impacted by COVID-19, the City launched its Resiliency Fund on March 12. It has since launched four additional COVID-19 relief programs for small businesses: SF HELP, Neighborhood Mini-Grants, Women's Entrepreneurship Mini-Grants, and the African American Small Business Revolving Loan Fund.
All of these programs are designed to provide relief to the hardest-hit businesses and workers, and to help them sustain until they can safely reopen and go back to work. The programs include grants and loans and are supported by public and private partnerships, including generous donations to the City's Give2SF COVID-19 Response and Recovery Fund. ♡
You can find more information about these programs and the impact they have had in the sections below. View a list of recipients so far. Additional awards are processed and distributed daily, we will add information as it becomes available.

See our relief program impact pages:
Women's Entrepreneurship Mini-Grants
African American Small Business Revolving Loan Fund (applications under review)
San Francisco has awarded over $1 million in Resiliency Fund grants to support 128 small businesses.
The Resiliency Fund launched on March 12, five days before San Francisco's Stay-At-Home order. The fund opened with $1 million and has now awarded grants up to $10,000 to 128 small businesses across 29 neighborhoods.

Phase 1 of the program closed two weeks later on March 29, after receiving more than 1500 applications totaling more than $15 million in requests.

In Phase 1, awards were granted on a first-come-first-served basis and limited to storefront businesses with 1-5 employees with a focus on dispersing funds quickly to neighborhood businesses who had begun experiencing significant losses as early as late January.
Phase 2 closed on June 17, 2020. This page will be updated with more data as it becomes available.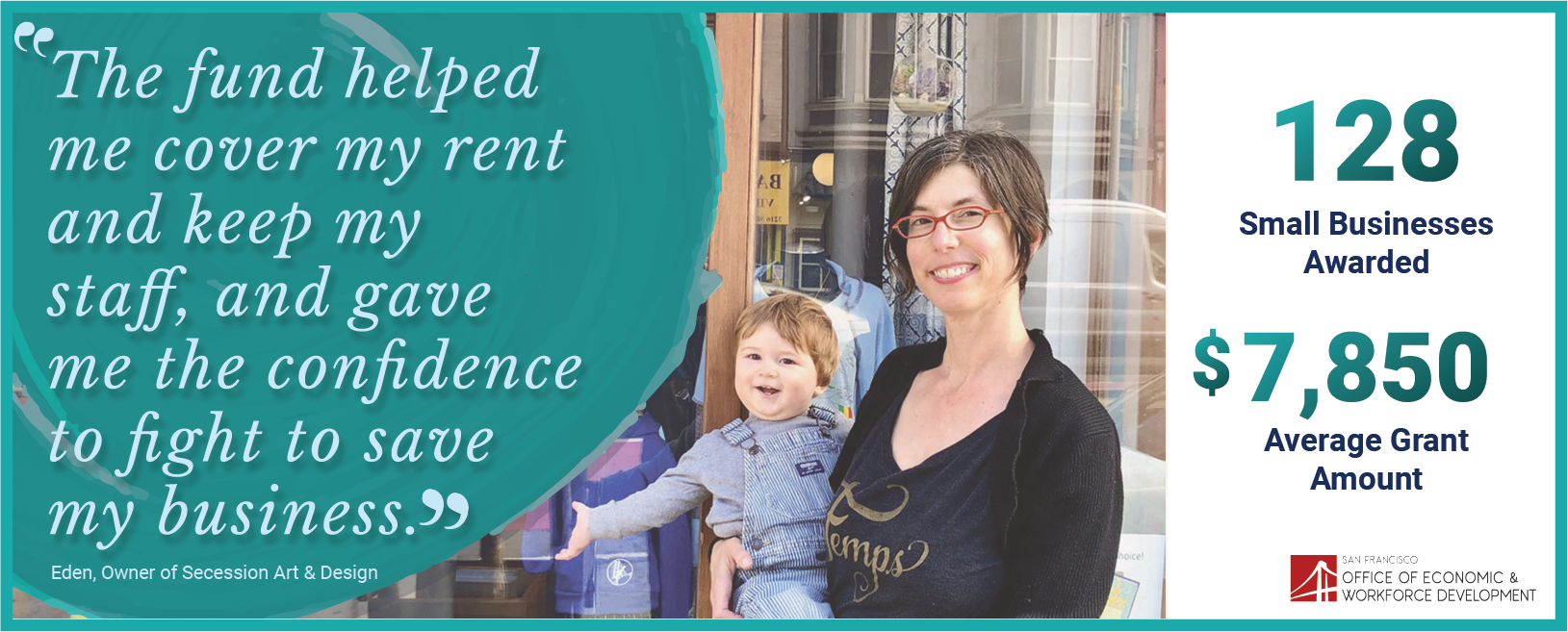 GOAL: Provide immediate funds to businesses most impacted by COVID-19
The first significant impacts of COVID-19 on small businesses in San Francisco began weeks before the Stay-At-Home Order and were initially heavily concentrated in Chinatown. In the weeks and months since the impacts have deepened and now spread more evenly across the City.
Phase 2 addressed the Citywide impact of the Stay-At-Home Order by awarding grants using a lottery system developed to distribute them across the city.
 
GOAL: Help businesses prevent layoffs and continue paying their employees
Grantees were encouraged to use funds to keep staff on payroll. Phase 1 required applicants to have at least one employee. The impacts of the pandemic have now spread to all types of businesses, and other key government programs have excluded businesses with no employees including self-employed, sole-proprietors, and independent contractors.
Phase 2 expanded to include businesses without employees and targeted businesses ineligible for other government funding programs.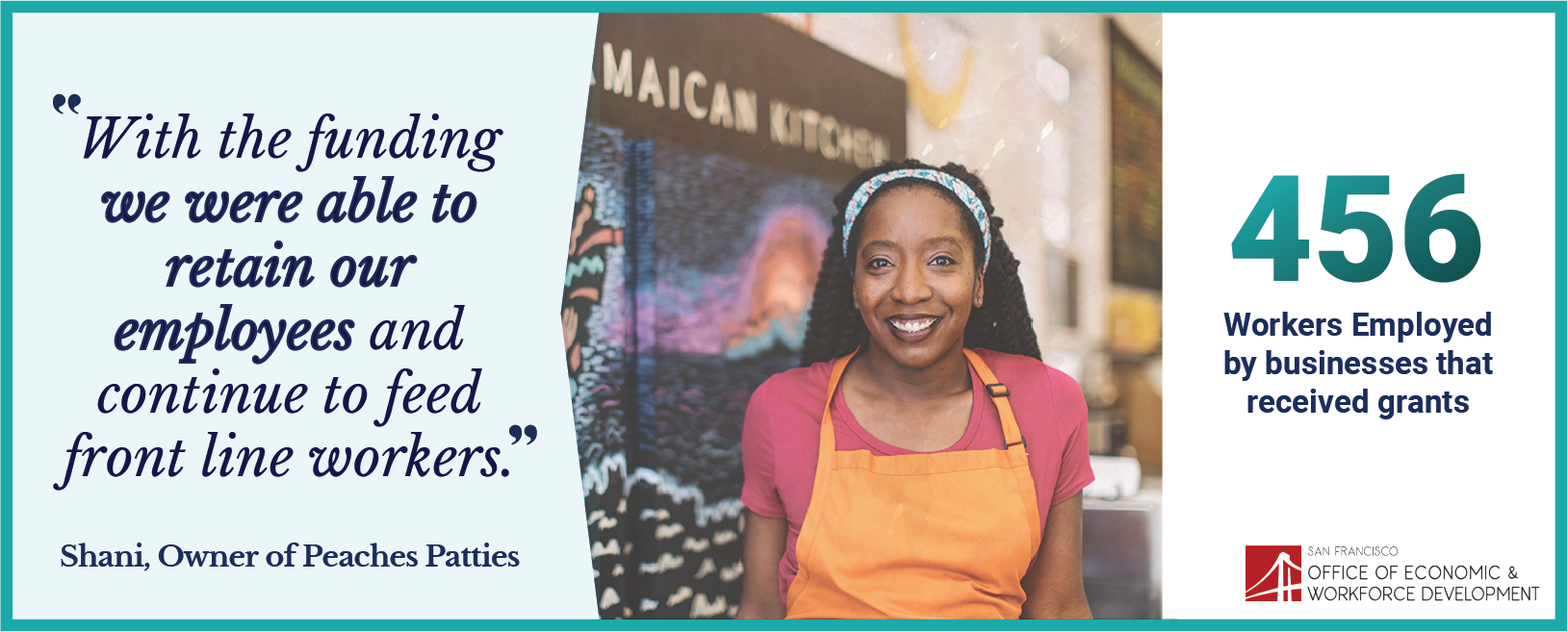 GOAL: Provide funding to businesses with the greatest need
Our programs aim to reach business owners without access to other sources of capital and those from historically underserved communities. More than
60% of awarded business owners
come from low-income households.

GOAL: Target funds to businesses in hardest-hit industries
Businesses without options to telecommute or work remotely have been disproportionately impacted by the Stay-At-Home order. Layoffs have happened at a higher rate for industries commonly operating in storefronts especially food businesses and retail.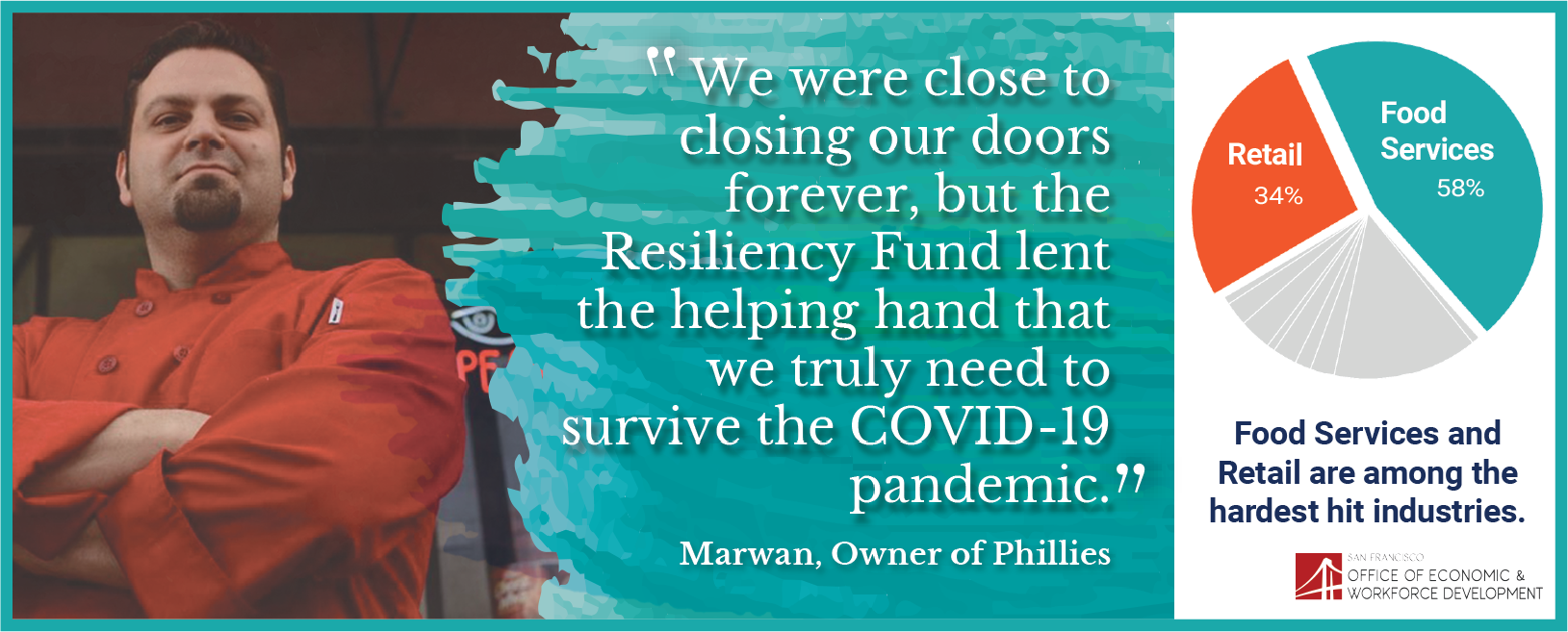 Neighborhood Mini-Grants Next Page >