Neighborhood Mini-Grants Highlights

San Francisco has awarded nearly $942,500 in Neighborhood Mini-Grants to support 322 small businesses.
The Mini-Grant program launched on April 24, 2020 and closed on May 29, 2020, after receiving nearly 900 applications. It has now awarded grants up to $10,000 across 8 neighborhoods.
The Neighborhood Mini-Grants were designed to provide financial support of $1,000-$10,000 to family-run businesses, owner-operated businesses, entrepreneurs of color, women-owned businesses, and other enterprises in historically underserved communities who may not have qualified for other government aid programs. The independently-owned businesses that received grants were in the Bayview, Central Market and the Tenderloin, Excelsior, Japantown, Fillmore, Mission, South of Market (SoMA), and the Outer Mission Ingleside (OMI) neighborhoods. View a list of the awardees. Businesses included salons, barbershops, flower shops, gift shops, independent contractors, and many others that were severely impacted when they had to close or reduce operations.

OEWD worked in close partnership with neighborhood organizations and the Mini-Grants were made possible by repurposing existing City economic development funds to support COVID-19 relief efforts. Community partners administered the funds, conducted outreach and delivered the financial aid directly to qualifying businesses within these targeted areas. Partners include Excelsior Action Group (EAG), Mission Economic Development Agency (MEDA), Economic Development on Third (EDoT), Renaissance Center for Entrepreneurs, Calle 24 Latino Cultural District, Japantown Taskforce (JTF) and Japantown Community Benefit District, Japanese Community Youth Council (JCYC), Tenderloin Equitable Development Project (TEDP), Excelsior Outer Mission Merchants (EOMM), and Northeast Federal Credit Union (NECFCU).

GOAL: Maintain our commitment to historically underserved communities.
In partnership with community-based organizations, OEWD's Invest In Neighborhoods division repurposed more than $900,000 in neighborhood funding to respond to the COVID-19 pandemic. This provided important flexibility and relief to many small businesses in the City's historically underserved communities.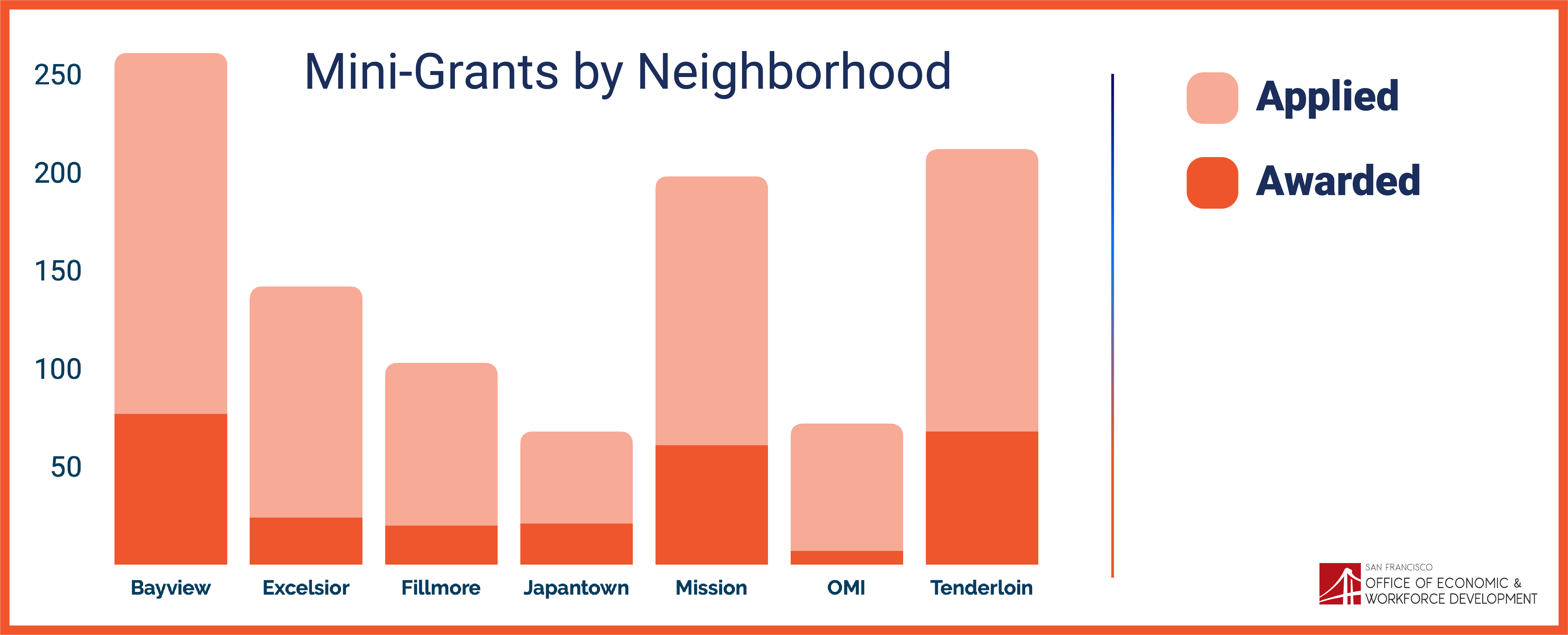 GOAL: Help businesses prevent layoffs and continue paying their employees.
While our Resiliency Fund focuses on micro-businesses with fewer than 5 employees, the Neighborhood Mini-Grants program expanded access to relief for neighborhood businesses with more than five employees, allowing the program to support a greater total number of workers.

GOAL: Expand access to City financial relief for owner-operated businesses and family-run businesses.
Businesses such as salons and other personal services often have no employees. Despite being particularly hard-hit by the Shelter-in-Place Order, these businesses were ineligible for many COVID-relief programs. The Mini-Grant program was expressly designed to include these businesses.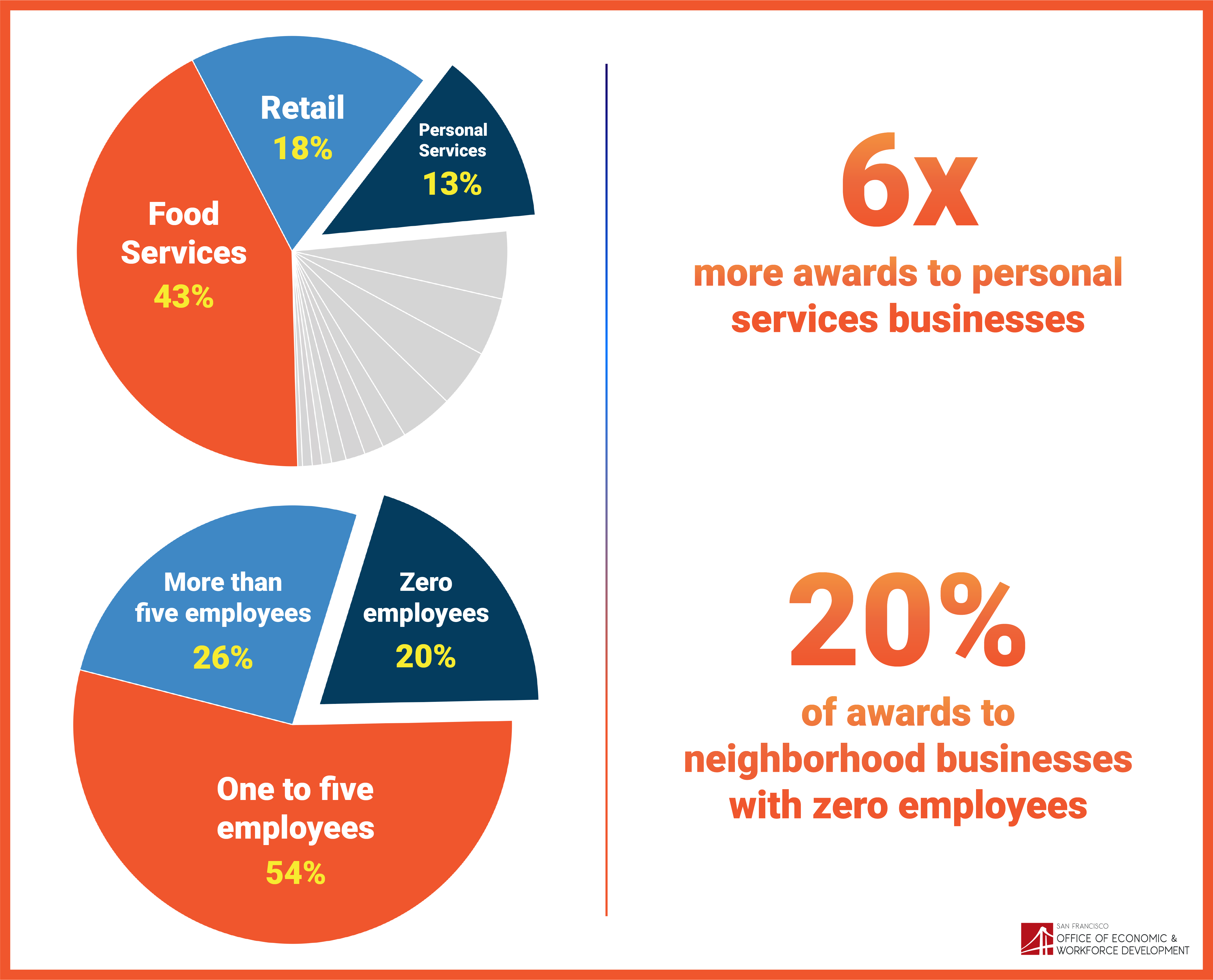 GOAL: Target outreach and financial support to San Francisco's diverse businesses.
The Mini-Grants program aimed to reach female and non-white business owners who traditionally have more limited access to capital and serve historically underserved communities. More than eight out of ten Mini-Grants were awarded to women- or minority-owned businesses.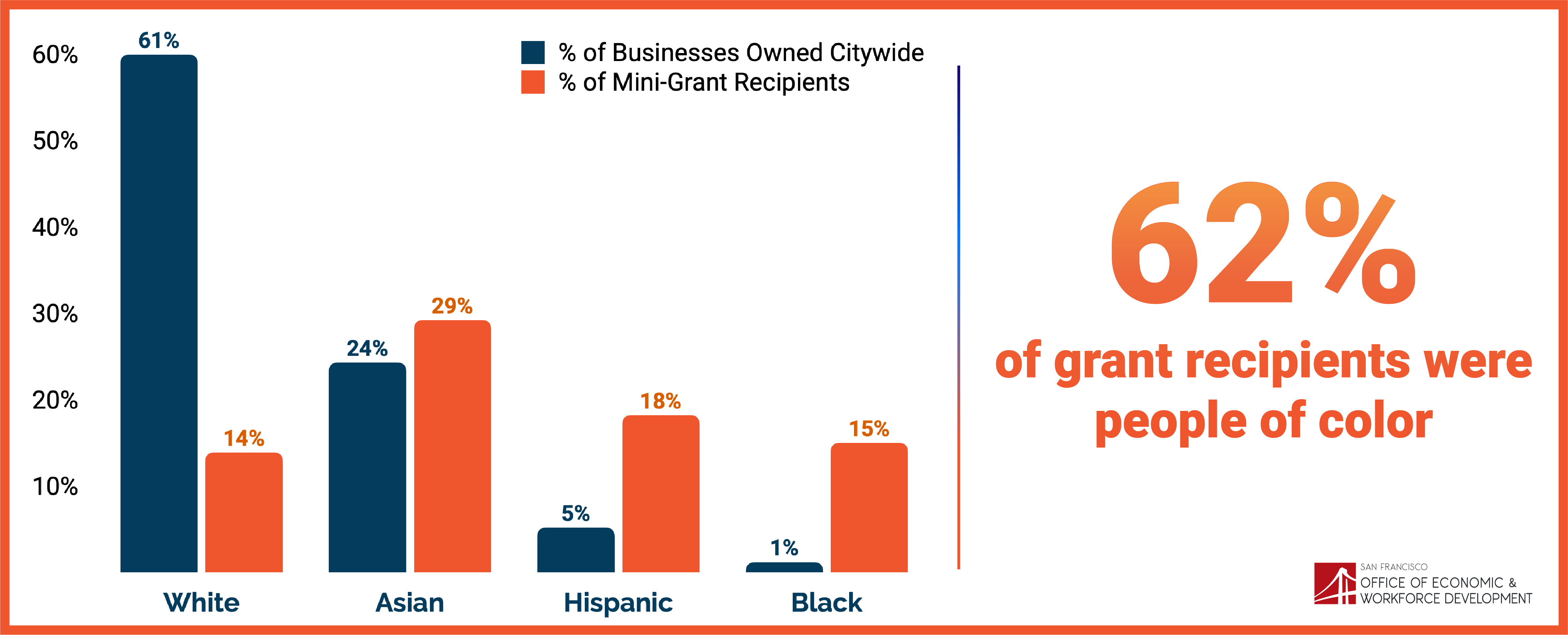 < Previous Page Resiliency Fund     Women's Entrepreneurship Mini-Grants Next Page >