TechSF Apprenticeship Initiative
The TechSF Apprenticeship Accelerator seeks to expand local businesses access to diverse talent pipelines, promote employee retention and support long-term employee learning and development. Here is how we can help you start and support your U.S. Department of Labor recognized Apprenticeship.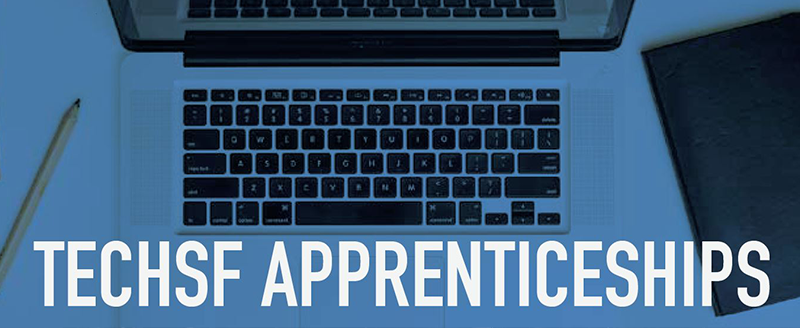 TechSF Apprenticeship Accelerator:
Maximizes your Diversity & Inclusion efforts. We're serious about diversity. Our apprentice pipeline taps the best talent from select education and training partners.
Fosters professional growth and incentivizes retention for your current employees and existing apprentice or internship programs.
Offers access to pre-screened candidates for Cybersecurity, Web development, Data Analytics, IT and Design roles and covers the cost of learning throughout the Apprenticeship experience.
Provides online learning and classroom instruction for Registered Apprentices for most technology positions. Businesses can create new roles as well!
Additional benefits of TechSF Apprenticeship Accelerator:
Love your intern? You can help take them to the next level.
Need to grow existing staff? They can be apprenticed to a new position within your company.
Your company will cut down outreach and recruitment costs with your own pipeline of talent.  
We can walk you through the registration process with the Department of Labor to streamline the launch of your Registered Apprenticeship Program.
You can also contact us for more information on the TechSF Apprenticeship Accelerator here: techsf@sfgov.org
Apprenticeship Accelerator Training Partners