Warriors Arena Project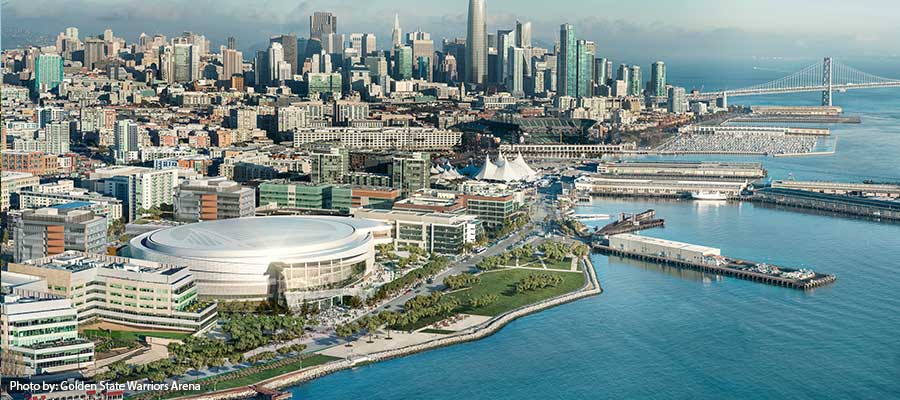 Project Overview
In 2012, San Francisco began actively working with the Golden State Warriors to develop a world-class, state-of-the-art event center and mixed-use development project at Piers 30-32. In April 2014, the Warriors purchased an undeveloped 11-acre lot on Mission Bay Blocks 29-32. The project completed the public approval process in December 2015.
In addition to the creation of an estimated 3,000+ permanent jobs and 2,500+ temporary/construction jobs, the project will generate hundreds of millions of dollars in new economic growth and activity for the City as well as over $14 million in annual tax receipts and help to accelerate development of an area of Mission Bay that has been dormant for decades.
The Golden State Warriors arena plans to open in time for the 2019-2020 basketball season.
Golden State Warriors Arena Project:
18,000 seat pavilion
over 3,000 permanent jobs created (including event staff)
over 2,500 temporary construction jobs
200 games, family shows and events per year
Triggers development of the 5.5 acre Bayfront Park
Robust public transportation including Caltrain, Muni, and AT&T Park ferry, plus funding for transit service and traffic enforcement in the surrounding neighborhood
Certified LEED Gold of higher construction
---
Project Highlights
Developer: Golden State Warriors
Location: Mission Bay bounded by 3rd, 16th and South Streets, and Terry Francois Blvd.
Proposed Site Uses: 12 acres of state-of-the-art multi-purpose arena and event space with one million square feet of 'commercial/ industrial' entitlement.
Completion Date: 2018-2019 basketball season
Project Status: Design Phase
Funding Source(s): Project sponsor
Project Features:

18,000 seats multi-purpose sporting and event space
580,00 square feet for office/laboratory space
100,000 square feet for retail
35,000 square feet public plaza
3.2 acres for public space (plazas & landscaping) = more than 30% of the entire site
---
Additional Resources:
For More Information: