Reports and Plans
San Francisco has long been a magnet for business, culture, retailing, tourism and education. Its rich history reflects the cultures of the world and gives energetic diversity to its neighborhoods.
This page contains Office of Economic and Workforce Development related plans and reports that offer insight into the current strategies and progress of the department.
Citywide Public Space Initiative
In 2017 the Office of Economic and Workforce Development, contracted Kearstin Krehbiel Consulting to study whether there may be a need and an opportunity to create a citywide organization to work across multiple types of public spaces and support the government agencies, citywide nonprofits, and grassroots organizations that work to improve and manage public spaces in San Francisco. The research identified widespread interest in a new type of citywide approach to public space management.
The Citywide Public Space Initiative will establish a new citywide non-profit entity that will partner with government agencies and community stakeholders to improve and manage a variety of public spaces across the City.
Copies of the Report can be found here to download: 

 Citywide Public Space Initiative 1-pager letterhead.pdf

San Francisco Public Space Management Study
For information about how to get involved with this effort, please contact Amy Cohen at amy.b.cohen@sfgov.org or Margaux Kelly at margaux.kelly@sfgov.org at OEWD.
---
State of the Retail Sector: Challenges and Opportunities for San Francisco's Neighorhood Commercial Districts
The San Francisco Office of Economic and Workforce Development (OEWD) contracted Strategic Economics to provide a series of issue briefs about the trends affecting the City's Neighborhood Commercial Districts (NCDs). NCDs include most of the City's neighborhood retail, outside of Downtown, mid-Market, the northeastern waterfront, and Stonestown Galleria.1 This report is intended to provide background information and analysis on changing industry trends and other conditions affecting the NCDs that City agencies may use in exploring policy changes, programs, and other strategies to help the NCDs adapt to changing conditions.
This report includes issue briefs on the following three topics:
The national restructuring of the retail, restaurant, and personal services industries.

Factors required to support successful San Francisco retail districts.

Opportunities, costs, and challenges for retail, restaurant, and personal services businesses in San Francisco, and the adaptations that businesses are making in response to changing conditions.
Below are the downloadable report documents:

State of the Retail Sector - Executive Summary.pdf

State of the Retail Sector - Final Report.pdf
---
Mission District Economic Development Reports

Calle24BackgroundReport_Aug2016.pdf

Calle24RetailStudyReport_Final_Jan2017.pdf

MissionStreetReport_Final_08-30-2017.pdf
---
Draft Local and Regional Plans
The Office of Economic and Workforce Development, in accordance with the Workforce Innovations and Opportunity Act (WIOA), has developed a Draft WIOA Local Strategic Plan for FY 2017-2020 for the provision of workforce development activities in San Francisco, California. The San Francisco-Bay-Peninsula Regional Planning Unit, which includes San Francisco, San Mateo, Santa Clara, and San Benito Counties, has prepared a Draft WIOA Regional Strategic Plan for the coordination of workforce development activities across the four county region. The public was invited to comment on both the Local and Regional Plans during a thirty (30) day public comment period ending February 25, 2017. Copies of the Plans can be found here to download:

Draft BP Regional Plan for Public Comment.pdf

SF Local Plan Package for State_March 2017.pdf
For more information about how to submit public comments, please visit http://oewd.org/node/2009. For questions contact OEWD at 415-701-4848.  
---
Draft 2015-2016 Action Plan
The Draft 2015-2016 Action Plan addresses the goals established in the Draft 2015-2019 Consolidated Plan and represents the annual implementation plan for the first year of the 2015-2019 Consolidated Plan. The Action Plan identifies specific programs and projects that are being recommended for funding for the 2015-2016 program year with Community Development Block Grant (CDBG) program, the Emergency Solutions Grant (ESG) program, the HOME Investment Partnerships (HOME) program, and the Housing Opportunities for Persons With AIDS (HOPWA) program.
The Action Plan is available for public review and comment between March 26 2015 to April 24, 2015. A public hearing is also scheduled for Tues., March 31- 6pm. For more information on the hearing and how to provide written comments, please visit the website of Mayor's Office of Housing and Community Development (MOHCD). 

For a printed copy of the Action Plan, please visit:
• MOHCD, 1 South Van Ness Avenue, 5th Floor
• OEWD, City Hall, Room 448, 1 Dr. Carlton B. Goodlett Place and 1 South Van Ness Avenue, 5th Floor
• Main Branch of the SF Public Library, 100 Larkin Street, 5th Floor, Government Information Center

The 2015-2019 Consolidated Plan will be submitted along with the 2015-2016 Action Plan to HUD in May 2015.
---
Economic Strategic Plan
The Economic Strategy is the foundational document for how the City views and wants to shape San Francisco's economy. In 2004, San Francisco voters approved Proposition I, which authorized the creation of an economic development plan for the City. This report, Sustaining our Prosperity: the San Francisco Economic Strategy (2007) is the result of that mandate. Proposition I directed the strategy to focus, on identifying and developing industries that have the potential to create good jobs that align with the skills and education of San Francisco's residents. The strategy also focuses on preserving and enhancing small businesses, creating job opportunities for disabled and vulnerable populations, and developing the City's tax base.
Proposition I directed the city to complete periodic updates to the report. The 2014 update to the Economic Strategy can be found here: Economic Strategy 2014 (PDF)
Click here for a Prezi presentation of the Economic Strategy (external website).
---
Workforce Strategic Plan
Preview of Strategic Plan: San Francisco is the innovation capital of the world. The way the world buys and listens to music, how we use our cellphones, what we wear, even the kind of food we eat – all have been changed by ideas that got their start in San Francisco. Mayor Edwin M. Lee, the Chief Local Elected Official, and Workforce Investment San Francisco (WISF), the city's Workforce Investment Board, envision a workforce system that leverages San Francisco's innovation economy on behalf of the city's residents and workforce. The City & County of San Francisco will implement this vision by building upon its successful sector strategy, a strategy that aligns the city's workforce programs around the needs of local and regional industry growth sectors, and through its "access points" strategy that creates training and employment pathways for disadvantaged San Franciscans.

Click here to review the Workforce Strategic Plan 2013-2017.
---
Annual Report
The San Francisco Office of Economic and Workforce Development Annual Report is presented in a dynamic digital format, highlighting our programs, projects and new initiatives, and offers a snapshot of who we are and what we do as an organization that touches every neighborhood in the City.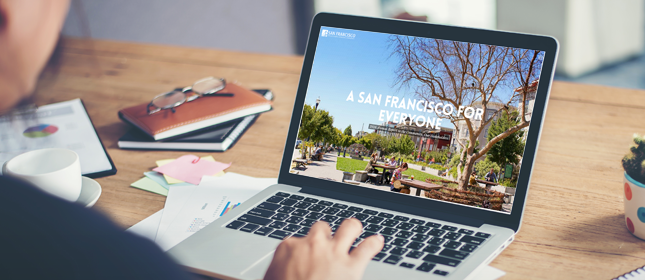 Archive of Quarterly Dashboards
Quarterly Dashboards
The Office of Economic and Workforce Development  created a quarterly dashboard in order to succinctly summarize facts that the office is tracking as we work to support our various divisions. Check back here on a quarterly basis for more information.
---
Local Hiring Annual Report
The Office of Economic and Workforce Development (OEWD) administers the Local Hiring Policy for Construction. In December of 2010, the San Francisco Board of Supervisors approved amendments to Chapter 6.22(g) of the San Francisco Administrative Code and adopted the San Francisco Local Hiring Policy for Construction ("Policy"). The Policy became one of the strongest pieces of legislation in the country to promote the utilization of local residents on locally sponsored projects.
Each year, OEWD produces a report detailing the performance and impact of the Policy.