Larkin Street Services prepares youth for the workforce to land their next position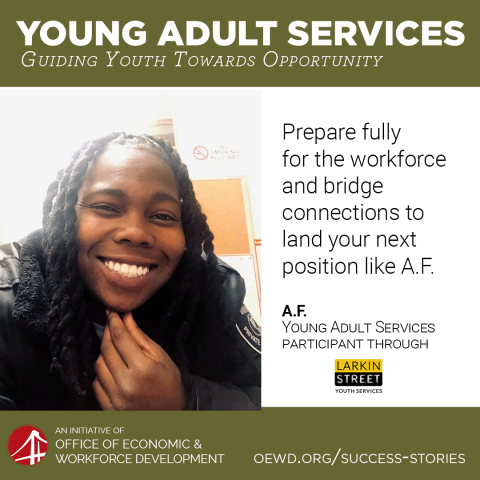 Larkin Street Youth is one of the Office of Economic and Workforce Development's Young Adult Sector partners. 
Larkin Street Youth participant, A.F,. is a 20-year-old San Francisco resident who has benefited from the entire Larkin Street Academy catalog of programming, has followed the life coaching principles, applied her newfound knowledge, and found her focus. This incubation period prepared A.F. fully for the workforce and bridged the connections necessary to land her current position with St. Anthony's.
A.F. works for St. Anthony's as a Community Safety Service Associate where she assists the community's most vulnerable people in the heart of San Francisco's Tenderloin district with clothing distribution, showering, and laundering services.  When discussing her work with St. Anthony's A.F. said, "I like to guide people and make them feel like they can do something." She added. "I want the people I serve to feel better." 
With kind co-workers and a nice boss, she is thriving in her new position.  
A.F.'s future aspirations include entrepreneurship and owning multiple businesses. With plans to return to school, A.F. hopes to create vehicles that combat homelessness, heal toxic relationships in families, and promote health and wellness. "Being my own boss, I want to create organizations so that everyone has the opportunity to live a better life. I want to teach people how to communicate to promote healing in abusive families. Running a massage business for athletes and training people is what I really want to do. I plan to have this and other businesses by the age of 30." With such lofty goals, it's no wonder A.F.'s motto so far is, "Work smarter, not harder." 
A.F. is no stranger to hard work. In the past, A.F. has also helped people as a home care aid for senior citizens and has participated in a construction internship, where she built houses on wheels for homeless young adults. "I feel like I made a difference by building houses for housing programs throughout Oakland, and now I'm here in the City paying it forward again," she said. "Doing something for my community, adding value to my community is my reason for being here. Making the community better and helping somebody off the streets makes me feel good." A.F. says she learned she had to keep faith in her future from an early age. "Losing my mom at the age of 12, I had to grow up fast with tough love and no mom. Not having my dad in my life also made me stronger. Having God keeps me going forward." With the love of her grandmother, A.F. says she found that building relationships with new people balanced out her losses.  
---
Sign up for email updates: Click here
We prepare, train, and connect San Franciscans to sustainable jobs and strong careers in many sectors. Everyone deserves an opportunity to thrive.
 Learn how we pair local talent with local employers.