OEWD's Nonprofit Resiliency Fund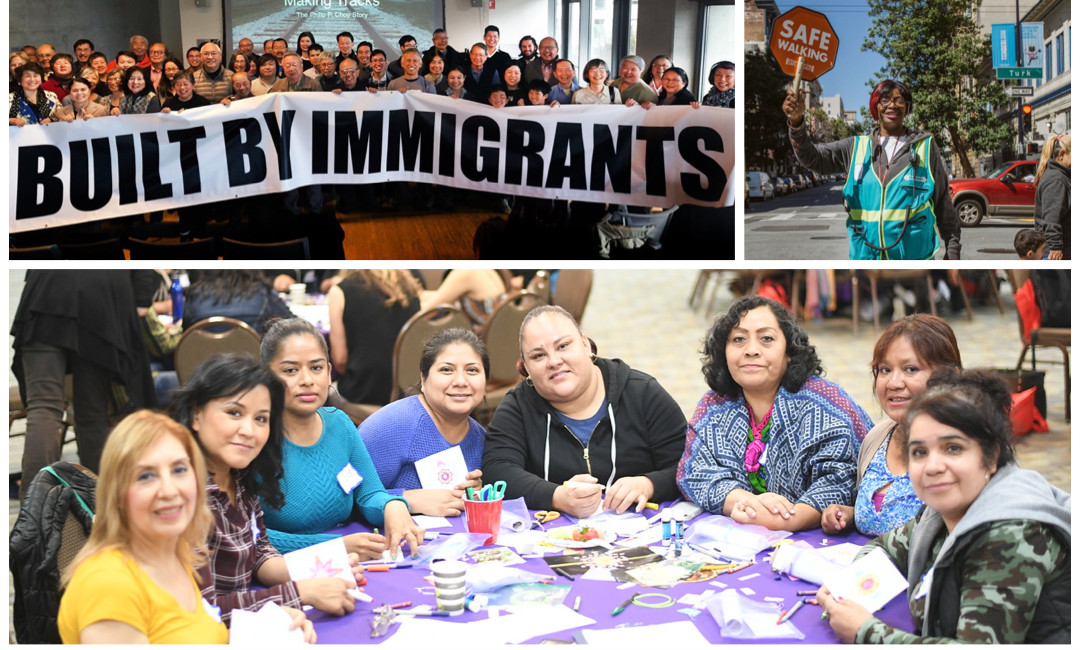 OVERVIEW
The City and County of San Francisco's Office of Economic and Workforce Development (OEWD) relies on the services, expertise, cultural and neighborhood competence of nonprofit partners, and provides resources to help its partners address key challenges and mitigate the impact of unanticipated expenses. These resources include:
-A nonprofit liaison in OEWD's Business Development Division
-Real estate and financial assistance through the Nonprofit Sustainability Initiative
-Business assistance and rent stabilization funds through the Legacy Business Program
In addition to OEWD's resources, several City departments offer resources specific to the needs of their partners.
FUNDING OPPORTUNITY
The goal of the 2019-20 Nonprofit Resiliency Fund is to maintain continuity of services and resources that enhance the City's ongoing economic and workforce development strategies by assisting nonprofits with:
Amount
Applicants may propose eligible expenses of at least $10,000 and up to $25,000 for leadership transition support
Anticipated Number of Awards
Up to 10 nonprofits will receive grants for leadership transitions already underway.
Anticipated Timeframe
Deadline to apply: Thursday, March 19, 2020 at 12:00 p.m. PST
The answers to all questions submitted in writing to oewd.procurement@sfgov.org by Monday, March 2nd at noon will be available to download on Thursday, March 5th by 5:00 p.m. at http://oewd.org/nonprofit-resiliency-fund. (View question and answer log: https://oewd.org/file/17323)
The target date for award notifications is April 9, 2020 [Update: due to COVID-19 impacts the City has paused new grant awards for the month of April]. Proposed projects should take place between June 1, 2020 and June 30, 2021.

APPLICATION INSTRUCTIONS
Applications must be received online. A confirmation email is automatically sent to applicants who successfully submit their application. We strongly advise applicants to review the application instructions linked above and prepare written responses and supporting materials prior to beginning this application. OEWD will not extend the application deadline in the event that an applicant encounters a technical issue with the online form. Applicants should paste their completed answers into the online application when they are ready to submit.
Hard copy, postal mail, and faxed applications will not be accepted. In fairness to others, we cannot accept late or incomplete applications. An application may be deemed incomplete and ineligible if the individual does not provide the complete set of information in the appropriate format by the deadline. No deadline extensions will be granted.
For technical assistance with this application, email oewd.procurement@sfgov.org. Please submit early to account for technical difficulties or questions.
Eligible expenses are consulting and other one-time professional service fees directly related to leadership transition. OEWD does not require matching funds for this award, however, we recognize that nonprofits undertaking organizational effectiveness work must invest human resources in the form of board and staff time. For this reason, approximately 10% of each grant is allocated to the completion of a final report. Applicants are encouraged to include estimated staff time and other ineligible expenses as "leveraged funds" within their application.
Grants may be awarded for a wide variety of purposes, including:
Hiring an executive search firm to facilitate the recruitment, vetting and interview process, and to manage compensation negotiations.
One-on-one coaching services for a new executive director.
Hiring a facilitator for board development, e.g. reviewing bylaws, revising board recruiting and onboarding practices, updating committee structures, roles and responsibilities.
Implementation of a merger or permanent strategic restructuring following the departure of an executive director
Racial equity planning and/or shifts in Diversity, Equity and Inclusion strategies following a leadership change.
Resiliency Fund awards may not be used for ongoing programmatic or operational expenses, capital expenses, or payments to employees and independent consultants serving in the role of employees. Fees paid to board members are also ineligible.
| | |
| --- | --- |
| Eligible Expenses | Ineligible Expenses |
| Board development facilitation | Grant writing or accounting services |
| Executive coaching (e.g., financial management) | Publicity or marketing expenses |
| One-time professional expenses related to strategic restructuring | Staff salaries or payments to board members |
| Executive search services | Services not necessitated by leadership transition. |

We anticipate grant terms beginning June 1, 2020. Once organizations are under contract they will have until August 1, 2020 to complete bidding (if required) and submit a complete scope of work.
Selected consultants must have 3 years verifiable experience providing similar services to nonprofit clients and a minimum of 10 nonprofit clients directly assisted.
ELIGIBILITY
Minimum Qualifications: Leveraging Leadership Transitions
Applicants for OEWD funding for leadership transitions must have a separate, pre-existing award recommendation, contract or sub-contract with OEWD in the City's current fiscal year (i.e., fiscal year 2019-20 ending June 30, 2020) to provide workforce or economic development services or resources to San Francisco residents or San Francisco-based businesses.
Applicant must demonstrate that the organization is without a permanent executive director, or has hired an executive director on or after January 1, 2019.
Applicant must be a not-for-profit organization with documented tax-exempt status pursuant to Section 501(c)(3) of the Internal Revenue Code
Before funds can be awarded, all applicants must be eligible to do business with the City and County of San Francisco. Eligibility information can be found here: https://sfgov.org/oca/Qualify-do-business
SELECTION CRITERIA
Applications competing for financial assistance will be reviewed and evaluated using the criteria described in this section. Point values indicate the relative importance placed on each section and points will be allocated based on the extent to which the application addresses the criteria listed. Applicants should prepare their proposals with these criteria in mind.
Leveraging Leadership Transitions: Selection Criteria
Project Goals and Provider Qualifications (30 points)
This section should describe the proposed project's organizational development goals and how they are directly related to a leadership transition. If proposed professional service providers have been identified, applicant should establish the experience, qualifications and track record of provider/s. If other one-time, out-of-pocket costs are proposed, applicant should describe how they are necessitated by the transition and how they will benefit the organization.

Racial Equity (15 points)
This section should describe how the organization's leadership advances racial equity.

Activities, Deliverables and Timeline (30 points)
This section should outline a plan of action that describes in sufficient detail the activities, deliverables and timeline of the project and how the proposed work will be accomplished. The plan should address all activities for which applicants seek funds. The applicant should provide an overview of staff and board roles in the project. Details may include how staff and board will be available to consultants and the distribution of the workload within the project team. If other organizational effectiveness efforts are underway, describe how the proposed project will leverage past efforts, and how staff time and workload will be managed. Applicant should cite any unique or unusual features of the project.

Performance Management and Reporting (15 points)
Describe how project activities and outcomes will be collected and reported. Describe how you will determine whether the project has achieved its goals and how the organization will monitor the project as it is happening. Describe how the outcomes proposed will have a positive impact on the daily functioning, effectiveness and impact of the applicant.

Financial Management and Budget (10 points)
Please provide a brief narrative detailing the financial management of the organization.
Provide a narrative justification of items in the budget
Provide details on any matching or leveraged funds including source, amount and restrictions.
Provide a proposed budget for the project using the template available on the OEWD website at https://oewd.org/file/14906.
APPLICATION PROCESS
All timely proposals will be reviewed by OEWD staff to confirm that minimum qualifications have been met. Proposals that do not meet minimum qualifications will not be advanced for Committee review.

Complete and eligible proposals will be reviewed and scored by a Review Committee. The Review Committee may consist of City staff, non-City staff and other individuals who have experience in the service areas requested in this RFP. Proposals will be evaluated using the criteria and process outlined above as a framework. Nothing herein shall obligate the City to make any grant, or shall guarantee any proposer the right to any grant money. The City reserves the right not to award grants based upon the ability of the proposer to meet the City's objectives and budgetary priorities.

The City may contact the applicants to clarify any portion of the proposal. All questions to the applicants will be submitted in writing and the answers, in writing, will be submitted, along with the proposals, to the Review Committee for scoring.

Any attempt by an applicant to contact a member of the Review Committee during the proposal review process (other than submitting clarification questions or responding to any City-initiated contact) may result in the elimination of that proposal from consideration.

After the Review Committee(s) has/have concluded the evaluation and scoring of the proposals, the results will be submitted to the Director of OEWD, and the appropriate oversight bodies, if necessary, for review and determination of the award.

The tentative awardees whose proposal(s) are determined to meet the needs of the City will be recommended to negotiate a grant.

All applicants will be notified of the results of the evaluation.

The tentative award may be conditioned on inclusion of changes/additional terms. Negotiations over the specific terms and language may be required before submission to the Civil Service Commission for approval, if applicable.

If the City is unable to negotiate a satisfactory agreement with the winning applicant(s), the City may terminate negotiations with that applicant and proceed to negotiate with other qualified applicants in the order of their ranking in the evaluation process. This process may be repeated until a satisfactory grant agreement has been reached.

Final award of the grant may be subject to approval by the Civil Service Commission, Board of Supervisors, Mayor, or other governing body.

After awards are finalized, grantees will have until August 1, 2020 to complete bidding and provide an approved scope of work and signed subcontract. Contractors may be asked to provide professional references. Grantees must provide OEWD with supporting documentation for all expenses. Approximately 10% of the total award will be withheld until the organization has submitted its final report, briefly summarizing the project in a format acceptable to OEWD. Specific deadlines and requirements will be negotiated following notice of award.
Image credits, clockwise from top left: photo from The Chinese & the Iron Road Symposium, courtesy of the Chinese Historical Society of America; photo by Felix Uribe Jr, photographer and Tenderloin resident, courtesy of Tenderloin Community Benefit District; photo courtesy of Mujeres Unidas y Activas.